September 16, 2011 -
Matt Bowen
What's up with Ochocinco?
When Tom Brady throws for 517-yards in an opening night win and we only see very limited production out of WR Chad Ochocinco (1 reception, 14-yards, on three targets), there should be some questions.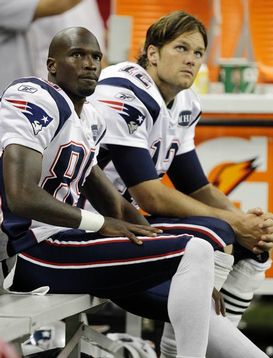 Brady and the Patriots are still looking for some production from Ochocinco.
From my perspective as a former defensive back in this league, I am thinking a couple of things here as they pertain to the WR position: release, route running, speed and knowledge of the system.
Keys to winning at the line of scrimmage, getting into the route stem and finding the football. Get open and make some plays.
To be honest, I am struggling to understand why Ochocinco got off to a really slow start in camp and couldn't get involved in the game plan on Monday night. He is a good route runner, still has some speed up the field and despite the sideshow act he carries along, this guy is an extremely hard worker at his craft.
But this is the NFL—and production talks. That's it when it comes to grading out players.
Earlier this week, former Patriots' linebacker Tedy Bruschi (plus safety Rodney Harrison) had some strong opinions on the WR. And they aren't impressed with what they are seeing. As former players in this organization, they know how football is played under Bill Belichick.
That brings up an important question for the Patriots: when does Ochocinco start making some plays? Because despite what this offense did in Week 1, the Pats are going to need some production from the WR when they face the Jets and make a playoff push—or run.
I understand learning a new system takes time, but these weeks in the regular season fly by from the perspective of NFL players. Time for Ochocinco to get going here and become a target for Brady in the passing game.
Because that is the only way he is going to become a part of the game plan in New England.
Follow me on Twitter: MattBowen41