August 30, 2011 -
Matt Bowen
What's your 'Gotta Have It' play?
Click here for the entire Inside the Playbook series.
Every offense in the NFL has a call, a certain route scheme that they go to in crucial situations of the game. Think 3rd downs, in the red zone or when they have to move the sticks to win a football game.
When I was in the league, we called it the "Gotta Have It" play in our defensive meeting rooms. For example, when playing Andy Reid and the Eagles, you are going to get some form of the "Hi-Lo" concept. Expect it when they need to make a play.
My question today: what are you going to call?
Before we get to some teaching points on how to draw up your scheme, I am going to show you my "Gotta Have It" play. An inside breaking route called the "W Post." Check it out on the chalkboard, drawn in Posse (or 311) personnel (3 WR, 1 TE, 1 RB).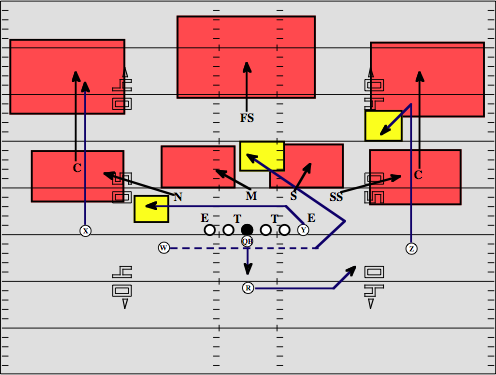 I drew this up vs. base Nickel personnel playing Cover 3 (4-under, 3-deep shell). The key is creating a stack look (W and Y). This gives you multiple options and I am going with the underneath crosser and targeting the "angle route" to get the ball back to the middle of the field. Now my QB three solid reads: the Y on the crosser, W on the angle and Z on the curl.
Now that we have that out of the way, let's talk about the scheme you are going to use in the crucial game situations. Here are some tips…
Inside breaking routes: Don't tell your QB to throw a deep out or a 7 (corner) route when you need to move the sticks. Make is easier—and run inside breaking routes. Slants, crossers, dig, curl, the angle route I drew up, etc. Routes that break back to the middle of the field are higher percentage throws.
Three or five-step drop: If the QB is under center, don't ask him to take a 7-step drop, set up and deliver the ball. That takes too long and you don't want to mess around with routes that are based on timing and depth. Get the ball out quickly.
Bunch, Stack looks: Give the defense something to think about with their pre-snap reads. A bunch (3 WRs) or stack (2 WRs) creates opportunities to use "pick" schemes and to beat a defender's leverage in both zone and man coverage.
No double-moves: Slant and go ("sluggo"), out and up, etc. Save those for your Xbox games in the basement. There is a time and place to use the double-move and take a vertical shot down the field, but not when it is 3rd and 6 and you need to convert.
Multiple personnel: Don't draw up a play that you can only run out of empty personnel—because you have to put it on tape. The "W Post" I drew up can be run out of Regular (2 WR, 1 TE, 2 RB), Ace (2 WR, 2 TE, 1 RB), Jet (4 WR, 1 RB), Heavy (1 WR, 3 TE, 1 RB), etc. You must be able to throw some "window dressing' on your scheme to disguise it every time you want to use it during a game.
Let's see what you come up with…
Follow me on Twitter: MattBowen41