September 03, 2012 -
Matt Bowen
When will Jones-Drew be 'game ready?'
In my experience in the NFL, players that miss (extended) time in camp due to injury or a hold out have a lot of ground to make up when the regular season starts.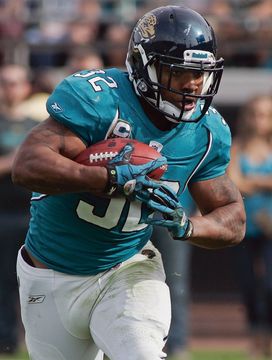 US PRESSWIREMJD is back with the Jags after a training camp holdout.
Think conditioning here, footwork, technique, etc. All a part of the development process for rookies and established veterans in training camp. That's the exact reason you put on pads in the August sun, beat up your leg and work through functional football movements out on the field.
Hey, camp in the NFL is tough for a reason and it is near impossible to re-create an NFL practice in the weight room or running out on a track somewhere.
That's my concern with Jags' RB Maurice Jones-Drew. The veteran reported to the club on Sunday after an unsuccessful attempt at a new contract that included a holdout throughout the offseason program, training camp and the preseason.
The offseason program? That could possibly carry some weight from an installation perspective under new head coach Mike Mularkey.
But I'm looking more at the reps MJD missed in camp and the preseason schedule. Valuable work we are talking about that the RB can't make up now with game plans being handed out this week for the start of the regular season.
I'm not going to compare Jones-Drew's situation to Chris Johnson's of last year because we are looking at two different players. But it's hard not to think about it, right? Missed time, a slow start and a season that didn't produce expected numbers for the Titans' RB after a hold out last summer in Nashville.
Maybe MJD quickly becomes that player we are used to seeing handle the ball 20-25 a game. Ease him back into the feature role behind Rashad Jennings and eventually ride his skill set in the Jags' playbook. However, there are no guarantees when a player misses that amount of time.
Follow me on Twitter: @MattBowen41