August 13, 2011 -
Matt Bowen
When will see Plaxico back on the field?
When the Jets signed Plaxico Burress (essentially letting Braylon Edwards walk) I had some questions, because we are talking about a WR that hasn't seen competitive football for two years.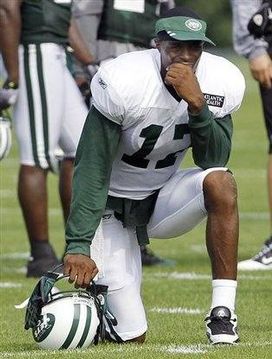 Burress hasn't seen much practice time during camp due to an ankle injury.
That takes time to transition back into the game without offseason work. As a player, you need to practice in those competitive settings (one-on-one's, 7-on-7, etc.) to polish your footwork and technique.
The issue with Plax: he isn't getting that work in due to an ankle injury. We can apply this all veteran players in this league. You put pads on and go to work in August. And if you miss time, you fall behind. It's that simple.
The Jets are going to shut Burress down for now. He won't play on Monday night vs. the Texans in New York's preseason opener, and according to reports will undergo an MRI. That worries me a little.
MRI's during camp means one thing: the club wants to find out why you aren't on the field. No other way to say it. Because if you are consistently standing on the sideline during an NFL camp, something is up—and the coaching staff is looking for answers.
And in Plaxico's case, that's crucial. He is not developing right now in the Jets offense, running routes or conditioning his legs. Practice time he needs after being away from the game.
Sure, there is a lot of time left this preseason. Three weekends of games, on the field work during practice, meetings, film study, etc. Burress can start moving in the right direction if he returns to practice next week.
Remember, he is going to be counted on to produce in this offense for New York. I do see a WR that can win in the 3-step game, go up and get the football and work down the field in the vertical passing game. Plax can be a matchup weapon for QB Mark Sanchez and the Jets. That brings value to the Jets from a play calling perspective.
But it only happens if Plaxico in on the field. And let's be honest here, after missing the last two NFL seasons, the WR has some work to do in New York. Can't do that when you aren't practicing.
Follow me on Twitter: MattBowen41