August 02, 2010 -
Matt Bowen
When will the Jets take care of Revis?
The Jets don't need distractions, but they will have one with Darrelle Revis — who officially began his holdout last night — if they can't find a way to get the CB into training camp soon.
My question here is simple: what is the issue? With Revis, all you have to do is turn on the tape to see his overall value. That's it. Nothing complicated here. Watch the Jets' game film from the '09 season to see how he can affect an offense from the way they call plays to the way they game plan for Rex Ryan's defense.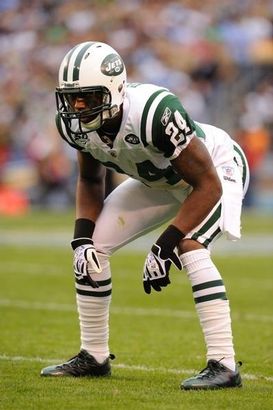 ICONHow long until the Jets get Revis in camp?
Watch the New England tape or the playoff game against Chad Ochocinco and the Bengals. One of the rare corners in this league who can play both press and off-man coverage — and tackle. He allows Ryan to script his defense to take away other players on the field — and to pressure. Nothing to debate here. Revis and the Raiders' Nnamdi Ashomugha are the best in the game. And, Ashomugha makes top dollar.
With holdouts, there is no good way to spin the situation. I have been in training camps when this was the main discussion. Players don't want to hear about them, but it is hard not to notice the empty locker. With rookie first-rounders, well, you expect that. Plus, we are talking about players who haven't proved a thing as pros. Nothing much to see there.
However, with vets — key vets with big roles — it hurts. In reality, it doesn't feel right. And, if I am playing in that New York secondary, it will be odd without the top CB in uniform, in meetings and in the mess hall for dinner. Yes, these guys are pros, and they have no choice but to go about their business, work on their technique and get better as a team in August. But, it is distracting when one of the key parts is missing.
From what I hear, the two sides aren't close right now on a solution. According to reports, there were previous offers made to the CB, but they were turned down. What does a week, two weeks out of camp do to Revis? Is it enough to hurt this team? Hypothetical questions, but still questions we need to ask because the Jets and Revis couldn't take care of this over the summer — when it needed to be done. Both Ryan and GM Mike Tanebaum have received contract extensions from the Jets. Time to find a way to make one work for Revis.
Maybe it takes a deal like we saw in Tennessee with Chris Johnson to add some money to Revis' contract for 2010. Or, maybe it is time to work out a long-term extension. Either way, the Jets have the talent to play good football this year. No need to start off the season with your top player waiting for an answer and a unwanted distraction in the locker room when you are talking Super Bowl in New York.
I will be heading north today to check out the Packers at training camp. Follow me on Twitter @MattBowen41 for my updates from Green Bay.
Ready for fantasy football? Click here to purchase the Total Access Pass/ Draft Guide from the NFP.