May 14, 2011 -
Matt Bowen
When will the Packers 'welcome back' Favre?
I'm curious to the reaction from Packers fans after Team President Mark Murphy stated that the club would eventually retire Brett Favre's number. Three MVP's, the Super Bowl win, etc, etc.
But we all know it comes with a slight catch.
The retirement press conference followed by the one season with the Jets and the last two in Minnesota with the Vikings. And we can all agree that playing across the state border for Brad Childress is the most revengeful move Favre could have pulled as a player.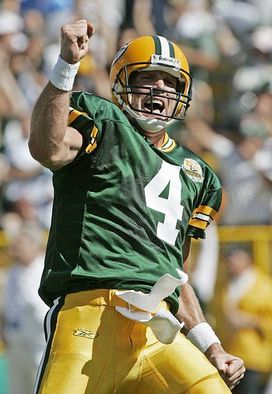 Favre deserves to see his No.4 jersey retired, but it will take time up in Green Bay.
We don't need to dive into the back story here, the reason Favre originally retired or the odd relationship that was formed with the front office and coaching staff in Green Bay once he came back to play football on Sundays again.
However, I have to admit that I still loved watching him play football the last three seasons. Didn't care about the numbers, the wins, etc. In my opinion, he was a special player and provided that unique entertainment value every Sunday.
And it was the same way when I played up in Green Bay with Favre in 2001 and 2002. I was a fan when the offense was on the field and I couldn't sit down when he was under center. You anticipated the unexpected results (both good and bad) with No.4. That's how he played—and he won a lot of football games in that green and gold uniform.
But what about now, today, as we look at Favre? Retire the number; welcome him back to Green Bay? Pretend the last three years were part of our imagination?
That's too easy, because it isn't going to happen overnight. I get that—we all should. This is going to take time. Happens when opinions and beliefs are changed towards a pro athlete. And the off the field situation in New York doesn't help in any way with public opinion towards Favre.
Favre, himself, has to know this. The minute he decided to play football again and seek out his own revenge against the organization was the time this all changed. If there is such a thing as "true loyalty" in pro sports anymore, Favre crushed that when he went to play for the Jets—and especially the Vikings.
But that still doesn't diminish what he did wearing a Packers uniform. He was a hell of a football player up north and did as much as you could for one organization. Wasn't perfect, and that is not the angle I am taking here. However, he was one of the greatest players of all time in Green Bay—and the NFL.
He deserves to see his number retired, but emotions and opinions need time to settle and relax. Favre should have his day when Packers fans—and the organization—want him back. Until then we can keep our own thoughts on what transpired after that day when he broke down in front of the media in Green Bay, telling us he was done.
I have no issue seeing that No.4 retired for good once Packers fans have had time to step back and see how important he was to the franchise. Because he is still one of my favorites—and that won't change.
What do you think? Let me know…
Follow me on Twitter: MattBowen41