December 10, 2010 -
Matt Bowen
Where is Randy Moss?
Titans' WR Randy Moss finished the game last night in Nashville without a reception—and not a single target. Does that make sense? Is there a reason why a struggling offense—especially in a two minute situation—wouldn't get Moss down the field in a vertical route scheme?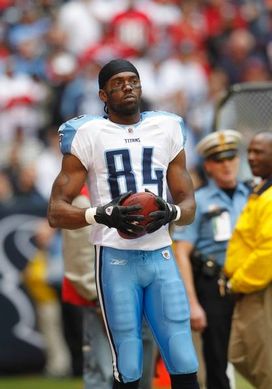 ICONMoss didn't get a single target in last night's loss to the Colts.
I can see that Moss has been a bust since the Titans have picked him up off of waivers. Five games in that Tennessee uniform—and only five catches. And, I have read the "internet buzz" that he is washed up, doesn't care and so on. Let's save that for the off-season.
But, I still don' understand why you wouldn't target Moss today. At worst, run a 9 route (fade route), a deep post, a double-move vs. a corner back in an off-man position, etc. Because if I am on the field as a deep half safety or in a single-high look, I am going to find where Moss is lined up, play with more depth and get ready to turn my hips and run. Because I know that he can still stretch the defense. Doesn't matter what the numbers tell me; he can still beat a safety down the field. And I am going to make sure that I am deep enough to keep the ball in front of me.
Kenny Britt is back? Sure, he should be the No.1 in Tennessee. I can't question that, because he can run the entire route tree, produce after the catch and make plays in the middle of the field—where it can get nasty for a wide receiver. But, to completely shut Moss out, let him stand there on the sidelines against Peyton Manning and the Colts doesn't add up from my perspective. I have always believed that deep ball players should get at least one target per half. Attempt to flip the field as an offense and then come back to the game plan that you constructed over the week. Show the defense that you can stretch the field whenever you want and keep those safeties deep and out of the run front.
But that isn't happening with Jeff Fisher and the Titans. Instead, we are seeing more questionable moves from a team that has dropped six straight and looks to have an offseason of major change. In reality, why even pick him up in the first place and pay him to stand there and watch?
Follow me on Twitter: MattBowen41