July 26, 2011 -
Matt Bowen
Where will Hasselbeck land?
According to Danny O'Neil of the Seattle Times, the Seahawks will not re-sign quarterback Matt Hasselbeck. While that brings up some interesting questions about the future of the position for Pete Carroll's squad in Seattle, where does that put the veteran QB for 2011?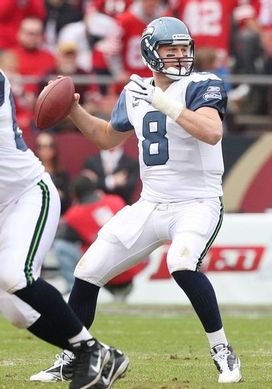 ICONHasselbeck is a fit for the Titans, but will we see him in Tennessee in 2011?
As mentioned earlier via reports, the Titans are a strong contender. Makes sense to look for a veteran. Rookie Jake Locker hasn't even taken a rep in a NFL practice and didn't have the opportunity to work with the Tennessee coaching staff this offseason due to the lockout. That eliminates playbook install, technique work and film time.
There is always the possibility of throwing the rookie out there with the first unit when the Titans open camp, but why not look to Hasselbeck?
You know what you are getting: veteran experience, leadership and a QB that can't be judged by using just numbers. From my perspective, Hasselbeck can still play—and win—in this league.
Sounds like a fit for a new coaching staff that needs a player who can lead an offense with a short amount of prep time until the regular season starts.
We have to mention the Cardinals based on what happens with Kevin Kolb. They are a team in need of a QB to step in as a No.1. And if Kolb ends up being moved elsewhere, Arizona will have to find immediate help before camp opens.
Others? We can throw out the usual suspects when talking the QB position: Dolphins, Vikings, etc. However, for today, the Titans look like a great fit. Let's see what happens this week.
Update: The Seahawks have reached an agreement with former Vikings QB Tarvaris Jackson.
Follow me on Twitter: MattBowen41