October 09, 2011 -
Matt Bowen
Where's the D in Philly?
I will go deeper into Michael Vick and the Eagles' offense tomorrow, but after seeing this Philly defense struggle (again) today vs. the Bills, here are some notes to check out.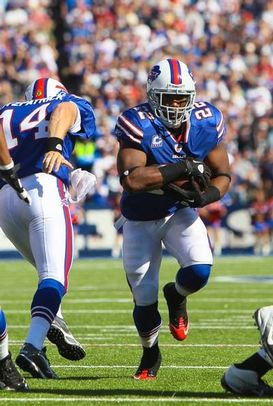 ICONJackson produced over 100-yards vs. this Eagles defense in the Bills' 31-24 win.
- Run defense. Gave up 143-total yards on the ground to the Bills—with 111 coming from Fred Jackson. They are soft in the interior of the defensive line, plus slow to read and react at the linebacker position. You are not going to win football games in this league when you can't get off of blocks and limit the overall production in the run game.
- Tackling. Sounds too simple, right? All technique based when we talk defensive football, but look closer at this Eagles' secondary. They don't come to balance in the open field (or wrap up), take poor angles to the ball and can't finish plays when the ball moves to the second level of the defense. From my perspective, this is a unit that plays out of control when they are asked to break down and get the ball carrier on the ground.
- Where are the big plays? One sack and one interception. This defense has enough talent at the CB position and speed off the edge to generate turnovers. However, again, we aren't seeing Asomugha, Samuels, etc. step up, take the ball away and create field position.
- Can they make the proper adjustments? Personnel isn't going to change, so I have to look at the scheme and technique. What can defensive coordinator Juan Castillo do to increase production here? Scripting a new game plan is a start, but technique goes back to coaching. Plenty of work needed there for a team that is in serious trouble at 1-4.
Follow me on Twitter: MattBowen41