December 15, 2012 -
Matt Bowen
Who isn't 'beat up' in the NFL right now?
Dez Bryant is grabbing some headlines because the WR is electing to play football these final three weeks of the season instead of opting for surgery on his left index finger.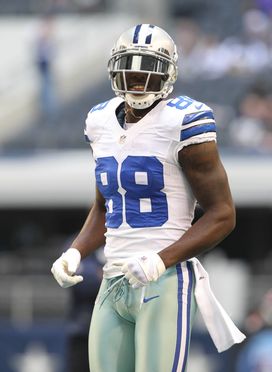 US PRESSWIREDez Bryant will put off surgery on his finger with the Cowboys still in the playoff mix.
I get it. We all should. The Cowboys are still in the mix with a 7-6 record and the Steelers are coming to town tomorrow. If Dallas is going to make a run to the post season they need one of their top playmakers on the field to get it done. It won't be comfortable for Bryant and he might have to take some pain meds to make it through three hours tomorrow afternoon.
But when you take a look at NFL injury reports right now there are plenty of guys just like Bryant.
Everyone is beat up. Players know it. So do the coaches. Heck, Lovie Smith and the Bears didn't even practice on Wednesday of this week. Why? Too many injuries.
As a player at this point of the season you are just trying to get to Sunday. Training rooms are at capacity and even the toughest guys in the locker room are looking to grab a table for some stim and ice, extra stretching, etc. Hey, do whatever it takes so you can get on that field come game day.
The offseason surgery that Bryant will eventually have? He's not alone. Players around the NFL will go under the knife. Maybe it is a scope to clean out a knee, an ankle, a shoulder. Or it could be something more serious that requires a month or two of rehab during the winter and early spring.
That's life as a pro with only three weeks left on the schedule. Your body is a shell of what it was back in August and you play hurt.
Toradol injections will be a hot item and trainers will put together make-shift braces out of tape, foam, string, etc. You would be amazed to see what an NFL training staff can do with a roll of tape to give you some relief on game day.
This is the time when real contenders play their best football, separate from the rest of the field and lock up a spot in the post season dance. And guys will push through injuries, put off surgery and continue to play ball just to get that chance.
Follow me on Twitter: @MattBowen41