March 02, 2012 -
Matt Bowen
Who wouldn't want to coach RGIII?
I truly believe the biggest misconception in football (at any level) is offensive or defensive systems, because the best coaches will adapt to their personnel. You must play to your roster and build a playbook (along with weekly game plans) that fit your strengths as a football team.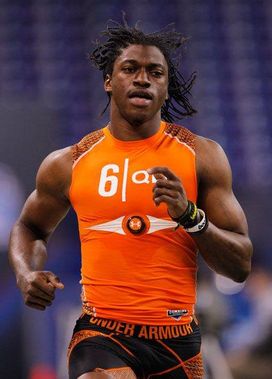 Griffin's speed at the NFL Combine is just another reason coaches should want to develop the QB.
And when it comes to Baylor's Robert Griffin III, I would love the opportunity to mold an offense around his talents.
In an interesting post over at Pro Football Talk, Mike Florio discusses Griffin's 40-times at the NFL Combine (sub 4.4s on the stopwatch) and brings up the question of how this impacts the coaching staff that inherits the QB. A "challenge," according to Florio, to take advantage of Griffin's skill set (and speed) as it relates to playing the position at the NFL level.
I couldn't agree more, but I also believe there are plenty of coaching staffs that would want that challenge, even welcome it, because players with this amount of talent are unique from a teaching and scheme perspective.
Thinking like a coach, the opportunity to develop a player like Griffin from day one doesn't come around too often. From footwork, to mechanics and techniques (in and outside of the pocket), you get to work with a top tier talent in the meeting room and on the field.
And that's before you even get up on the chalkboard to script Xs and Os, formations and alignments. Spread the field, use his speed and generate situations that cater to your offense. In the gun or under center, it doesn't matter when you have great coaching that is willing to game plan creatively.
Earlier in the week, I talked about the demand for Griffin in the upcoming draft with teams such as the Browns, Redskins, Dolphins and Seahawks all in need of a QB. With the Rams sitting at No.2 (and looking to trade down), I do see this becoming a bidding war for the former Baylor QB. Put your best offer on the table and try to move up on the first night of the draft to secure Griffin—and it won't be cheap.
There is no question that Griffin will have to adapt himself to pro coaching and we should expect to see the QB struggle at times vs. NFL competition on Sundays. That's pretty standard for rookies at the position.
However, the way I see it, there isn't a more intriguing prospect in this draft from a coaching and talent standpoint. Plenty to work with if you are open to building a playbook around the QB's talents, because there is no such thing as a "Pro Style" offense with Griffin. That's just not good enough.
Want to learn how to study the NFL Draft? Click here to sign up for the NFP's online scouting class.
Follow me on Twitter: @MattBowen41