July 27, 2011 -
Matt Bowen
Why all the talk on the Weddle deal?
Earlier today, the San Diego Chargers re-signed safety Eric Weddle to a five-year deal worth a total of $40 million—with $19 miilion guaranteed.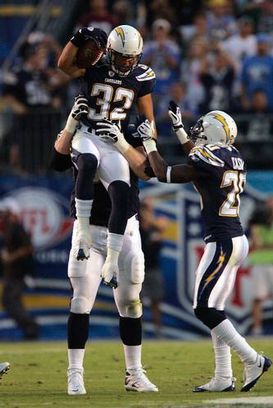 There has been plenty of talk on Weddle's deal that will pay him $19-million in guaranteed money.
A high price to pay for the Chargers safety? Of course, and we are talking about a deal that will make Weddle one of the highest paid players at the position.
Yes, more money than Ed Reed, Tory Polamalu and Nick Collins: the top three safeties in the league from my perspective.
Understandably, there is going to be backlash as this deal has sort of created its own conversation via Twitter. However, don't be surprised, and don't blink if NFL players are calling out the deal—because this is common practice.
I saw it during my own career when free agency kicked off. Players get paid big money during the NFL's annual shopping spree and those that are stuck (under contract) when the big checks are going out start to speak their minds.
That is a common theme in locker rooms across the league. Throw guys under the bus when they get paid. More jealousy than anything and money is always the No.1 topic in the NFL when it comes to players.
Now, is Weddle worth $19 million up front? Probably not, but he was a free agent at the right time. The draft was low on talent at the safety position and the free agent market doesn't include the top players at the position.
Weddle should cash in big. I give him credit, because he made plays and worked his way to a new deal that is going to set him up for life after football.
But don't expect the discussion to stop anytime soon. That's part of free agency in this league.
Follow me on Twitter: MattBowen41