November 23, 2011 -
Matt Bowen
Why are the Patriots' Tight Ends a matchup issue?
The way I see it, the Packers and Saints are the toughest offenses in the league to game plan for. Two teams that can exploit defenses with personnel, alignments and multiple formations to go along with their talent at QB and the skill positions.
However, don't forget about the Patriots. Tom Brady has two tight ends in Rob Gronkowski and Aaron Hernandez that present defensive coordinators with issues from matchups to play calling.
Here are three problems you are going to run into when you script your defensive game plan vs. the Pats: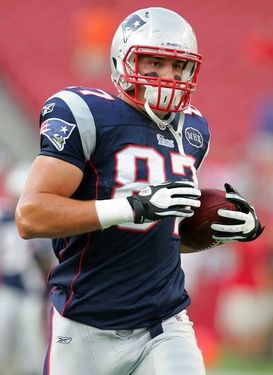 ICONWith Gronkowski and Hernandez, the Patriots can create matchup issues.
1. Defending "Ace" personnel: The Patriots want to use their Ace (or 221) personnel (2 WR, 2 TE, 1 RB). Do you stick with your base 3-4/4-3 personnel or bring your sub-package (nickel) on the field? The Patriots can run the ball in a 2x2 or 3x1 alignment and spread you out to give you three (and even four) WR looks. Bringing that third CB (nickel CB) on the field may help you play Gronkowski or Hernandez when they are aligned as a WR, but you are also taking a LB out of the mix vs. the run game. Very similar to what we have seen from the Colts and Peyton Manning in the past with TE Dallas Clark and their two TE personnel.
2. The red zone route tree: I have discussed the route tree before here at the NFP. A standard numbered system used to diagram schemes up on the chalkboard. And with Gronkowski and Hernandez, we need to talk about the inside breaking concepts: slant, dig, curl, post. Why? Because those are the routes that beat Cover 1 (man-free) and Cover 4 (quarters) in the red zone. After the win over the Jets, I went back and broke down Gronwkoski's TD on the dig route vs. Cover 1. Matched up with a CB, he is going to win because of his size and route running ability. Tough to find a matchup between a CB, SS or even a LB that can consistently check them in the passing game. Both TEs can win at the line of scrimmage vs. press-coverage and stem their routes to create separation. And with Brady, he is going to put the ball away from the defender on the up field shoulder.
3. Pre-snap alignments: Check the Patriots out when they play the Eagles this Sunday. You will see the bunch looks, stacked WRs, reduced splits, etc. All designed to create free releases and spacing. Think 3rd and medium situations here vs. any coverage you want to call. Not only do you have to find a matchup that can compete with both of these TEs, but you also have to play from an off-position, work to maintain your leverage and drive on the football. No different than talking about the Packers or Saints here. The schemes eventually beat you because they put their talent in a position to win early in the route stem. Plus, you better have two DBs that can play physical, run and go up and get the football vs. Gronkowski and Hernandez—or you are in trouble.
Brady has thrown a combined 15 TD passes already this season to the TE position. That should tell us defenses around the league are having serious problems winning matchups vs. New England.
Follow me on Twitter: @MattBowen41