August 20, 2011 -
Matt Bowen
Why aren't we talking about the Cowboys?
You can't talk NFC East football right now without the discussion moving over to Andy Reid and the Eagles. Division favorites, a possible playoff run and a trip to Indy for the Super Bowl. We've all heard it since free agency started. Loaded with new talent.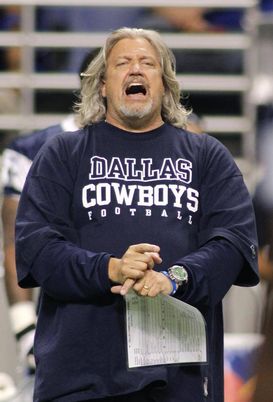 Can Rob Ryan be the difference this season for the Cowboys? That's how I'm thinking.
And even after a bad night football on Thursday in Pittsburgh, Philly is still looked at as the clear favorite in the East.
But what about Dallas? Because if I had to make some NFL predictions (which I will soon), I don't have any issue picking the Cowboys to take the division and possibly put together some post-season wins.
Why? Because of the new defensive coordinator in town—Rob Ryan.
The way I see it, defense is going to win in the East this season. And I'm talking about defenses that can dictate the flow of the game. Think of impacting offensive game plans, bringing pressure and forcing turnovers.
If you aren't familiar with Ryan, think of what we see from the Ravens, Saints, Packers, Steelers and Jets. Top-tier units that live by pressure-based schemes. Much different than the style of football we might watch in Chicago or Indy. Tampa 2 teams that force the ball to go underneath, limiting the big play in zone based schemes.
In Dallas, you are going to see a defense that attacks the line of scrimmage and protection schemes. Plus, coaching that will polish and improve the play of the secondary.
Can one coaching change really do that? Of course. I saw it first-hand when Gregg Williams came into Washington. The first day he walked into the meeting room, our attitude and defensive scheme flipped. What came next was accountability and a different approach to practice and game days.
But we didn't have the offense that Dallas does right now. Because this is the other part of the equation for the Cowboys. A healthy Tony Romo at QB and solid talent at the skill positions. Run the ball, set up play action and use the vertical passing game to produce explosive gains.
So, am I going to pick the Cowboys to win the NFC East? I'm starting to lean that way.
Follow me on Twitter: MattBowen41