June 16, 2011 -
Matt Bowen
Why Benson is the key to new offense in Cincy
Think of the "projected" 2011 Cincinnati Bengals offense under new offensive coordinator Jay Gruden for a minute. Complete with a new playbook and Sunday game plan.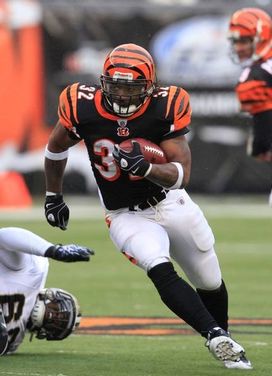 ICONBenson is a free agent, but once the lockout ends getting him back should be a priority in Cincy.
That is a lot to install without the offseason OTA's, mini-camps and QB school. On top of that, expect a new QB and No.1 WR in rookies Andy Dalton and A.J. Green with the likely departure of veterans Carson Palmer, Terrell Owens and Chad Ochocinco.
However, the one constant—and a must in the AFC North—is the running game. Even more of a reason to re-sign RB Cedric Benson and make him the featured player in the Cincy offense this season.
Young and inexperienced QB and WR? That takes time to develop on the field, but when you can run the football with production, your offense can operate and put together drives.
Gruden can still game plan his inside breaking routes of the west coast offense and give some sense of control to Dalton, but when this team lines up in September (assuming that is when the season kicks off), Benson needs to see the ball often.
I'm thinking 20 touches a game at a minimum. Treat him like a featured back and ask him to carry this offense. You play good defense, cover kicks and run the ball in the NFL you will win football games.
I understand this is a passing league with the amount of multiple looks we see in Green Bay, New England, New Orleans, etc. But I will always believe that running the ball is the one mark of physical football team.
Cincy can do that with Benson and when the lockout is lifted, giving him a new contract should be the No.1 priority of this football team with the players they want to keep around. And that will give Dalton some protection when he walks onto the NFL stage in a new offense behind a physical running back.
Follow me on Twitter: MattBowen41