February 18, 2011 -
Matt Bowen
Why Bob Sanders can still provide value
A couple of notes on the Colts releasing safety Bob Sanders today…
- The first thing we discuss with Sanders is his health. I understand that. He played only 9 games over the past three seasons. That eventually will get you cut. But, playing in the box as a strong safety (especially in the 8-man fronts of the Tampa 2 playbook) is hell on your body. Take on pulling guards, kick out blocks from the fullback and spend a lot of time absorbing hits. That adds up—just as it did for safety Mike Brown in Chicago in the exact same defensive scheme. That is the No.1 concern with Sanders moving forward.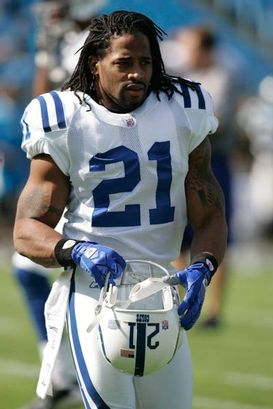 ICONHealth is a major concern with Sanders, but he can still provide value at safety.
- His current value? I think we are going to see some strong interest in Sanders once we get a new CBA signed and start talking free agency. The question is where do you play him? The talk will center on Cover 2 teams (Chicago, Minnesota) taking a look at Sanders. But even in those systems, I like him as a free safety. Yes, you can roll him down to the weak side and play some Under 10 (weak side Cover 1), but he can have an impact in the middle of the field. We always talk about range with free safeties and Sanders can get outside the numbers and over the top of the deep vertical route schemes. Plug in another safety to play in the box and let Sanders line up at FS in your Cover 2 and Cover 1 schemes.
- The entire league should take a look. I just mentioned the Tampa 2 defense, but Sanders has the talent to play in a pressure scheme. Defenses that will walk the safety down over a slot in man situations, bring edge pressure and play some Cover 0 (man-to-man with no safety help). Don't view him strictly as a Cover 2 safety. Those players don't exist anymore. You have to be able to play man (and blitz-man) coverage to get on the field as a safety in the NFL today.
- The contract will be key (as will the physicals) and Sanders will find himself playing for far less money that he was due in Indy for the 2011 season. But, if he is healthy and can play on Sundays, there is no reason not to check him out. This isn't 2007, when Sanders won the NFL Defensive Player of Year award, but if you have a need at the position, I take a look into what he can provide. There is intrigue here.
- He is a football player. When Sanders is on the field, he can be discussed with some of the top safeties in the game. Teams need to do their homework on Sanders and see if he can provide an upgrade to their roster. The safety class coming out in this year's draft is average—something to think about.
Follow me on Twitter: MattBowen41