May 14, 2011 -
Matt Bowen
Why Castillo has the right idea for Eagles defense
I respect Mike Florio's opinion over at ProFootballTalk.com, but after reading his post today about new Eagles defensive coordinator Juan Castillo "simplifying" his scheme for the 2011 season, I felt the need to give my own thoughts from a player's perspective.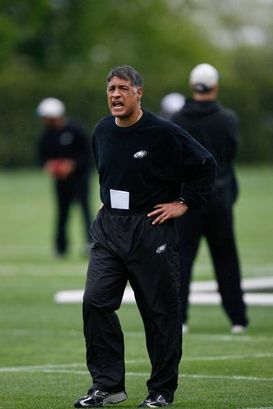 Castillo will see results by simplifying his game plan as the new coordinator in Philly.
Because shortening game plans happens all over the league with coordinators on both sides of the ball when it comes to play calling.
I saw it during my own career, and Castillo has a point when he says (via the Philadelphia Inquirer): "To play fast, you can't be thinking,"
Teach landmarks, run-pass keys and specific techniques that apply to the front seven and the secondary. The rest? Just play football. The exact theory behind the Tampa 2 scheme under Tony Dungy and what we see today in Chicago with Lovie Smith.
That doesn't mean we won't see blitz concepts from the Eagles this season—because that is far from the truth. Even the Bears use fire zones and man-pressure schemes.
However, at the core of Lovie's defense is a system that relies more on speed, pursuit and eleven players understanding their own technique on every snap. And it works.
Understandably, Jim Johnson had a complex scheme, no different than a Rex Ryan in New York or a Gregg Williams in New Orleans. But having played for Williams when I was a Redskin, there were game plans that were "simplified" to put us in a better position to make plays. More Cover 2 and Cover 4. Smaller blitz packages. Read and react on Sunday.
I know there have been multiple opinions on the hiring of Castillo (an O-Line coach) to run the defense in Philly, but if you are going to coach in the NFL, you won't survive without knowing both sides of the ball.
And, to be honest, it is more about teaching and the ability to sell your scheme to pro players in this league. I like the idea here with or without the time constraints of the NFL lockout. Coach fundamentals and let your guys attack the football. We can call it a simple scheme—but often times that is the way to go.
Follow me on Twitter: MattBowen41