May 04, 2011 -
Matt Bowen
Why Cobb gives the Packers options on offense
For those of you who read my blog often, you know that I think in terms of X's and O's when it comes to the game. That's why I started the "Inside the Playbook" series here at the NFP and watch the game from the perspective of an NFL meeting room—up on the chalkboard.
And now that we are past the draft, giving our opinion and trying to project how players fit in certain schemes, one prospect we need to talk about is new Packers WR Randall Cobb. Because, he is a real weapon. Let's look at four ways Mike McCarthy can use the dynamic talent from Kentucky this season.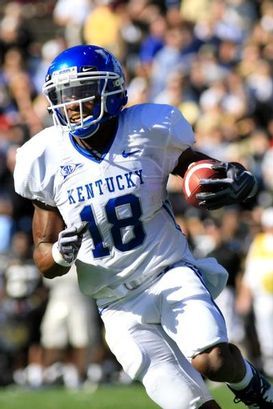 ICONThe Packers new rookie can produce from a variety of alignments.
1. Inside the numbers: The first thing you do with a talent like Cobb. Get him matched up inside vs. a Nickel CB or even a FS that rolls down from the middle of the field working against Cover 1. Think of how the Packers use their empty formations and align Cobb as the No. 3 WR. Routes you can run? Inside breaking schemes: slant, underneath crosser, dig, skinny post, etc. Plus, don't forget what he can do vs. 2-Man and Cover 2—where you can get him matched up vs. a Mike Backer (think Brian Urlacher in Chicago). Bottom line: put the rookie in a position to produce. And you have options to do that with Cobb.
2. Get creative: Think of it this way: Green Bay now has a new tool to plug into their playbook. Similar to what Todd Haley has down in Kansas City with Dexter McCluster. Align Cobb in the backfield, in bunch sets, stack looks and use pre-snap motion. Green Bay will bring Tank personnel (1 WR, 2 TE, 2 RB) onto the field to get downhill in the run game. That's understandable, but why not use Cobb in some one-back sets, let him press the edge of the defense in the outside zone or crack toss? And, more importantly, get it all on tape. That's the key. Because when defensive coordinators see this guy aligned all over the field, it puts stress on their own game plan as well as forcing them to dedicate practice time to one player.
3. The wildcat: I know, I know. The wildcat is a gadget offense. I will say that all day long, but not when you have a player taking the snap that is accustomed to handling the football, reading blocks and being patient in the run game. We saw that with Cobb at Kentucky and don't forget one key point: he can throw the football. Talked to a NFL DB coach this past season about the wildcat and he told me the reason it has become ineffective is the lack of a passing threat out of the formation. I would align the rookie in the wildcat in crucial situations (3rd and short, inside the five-yard line, etc.), and put the ball in his hands. He is an athlete—now let him be one for you on Sundays. No different than the schemes that can be designed for Tim Tebow in Denver.
4. The return game: Sounds too easy to bring up the idea of Cobb returning both punts and kickoffs, but again, we are talking about field position. Think of Chicago when Devin Hester is back on punts. An opportunity to flip the field or even put points on the board. And that is with an offense that struggles to move the football routinely. Not in Green Bay with Aaron Rodgers, Greg Jennings, James Starks, etc. Give this offense a short field to work with? That is a nightmare for opposing defenses. Cobb will force special teams units to tackle and if he can find a seam it will result in points for the Packers. Scary thought.
The main point here? Cobb can be a playmaker on Sundays. Take advantage of it, just like we saw when he was aligned all over the field at Kentucky. Check it out…
Follow me on Twitter: MattBowen41