August 01, 2011 -
Matt Bowen
Why Cromartie was the only play for the Jets
Antonio Cromartie isn't on the same level as Nnamdi Asomugha when we break down the CB position in this league. However, from the perspective of the Jets, what other options were there on the market to fill that role in Rex Ryan's defense?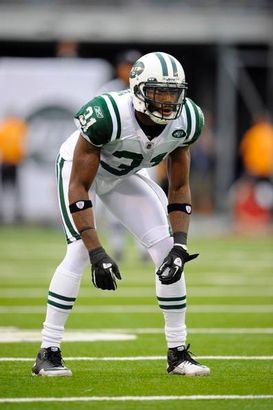 ICONCromartie is back with the Jets in a move that had to be done.
Carolos Rogers from the 'Skins? Good cover skills, but has a hard time finishing plays. After that, the only play left was to make a move for the Eagles' Asanate Samuel. The Philly CB can play off-man and drive on the ball. But the physical aspect is missing when you break down his game down (not a plus for Ryan's defense).
we can view this a smart move by the Jets, and in reality, the only move that adds up to fit in their scheme. The value? $32 million for 4 years? Look around the league, because you pay big money for cover skills to keep up with the spread looks of NFL offenses.
Cromartie is a solid No.2 CB in New York (and a No.1 in most NFL secondaries) opposite Darrelle Revis. High-level athletic ability, great ball skills, plus top end speed to turn and run WRs. And he turns into an offensive player once he gets his hands on the football. That plays right into Rex's pressure-based defense.
The only issue I see when looking at the Jets CB is his technique. Cromartie will rely too heavily on his athletic skills and gets lazy with footwork, hands, etc. But he is still a player that can cover down the field.
Would Asomugha have been an upgrade? Of course, he is an elite talent. The Jets missed out there when he signed in Philly. But bringing back Cromartie was the second best option on a team that has already shown it can play and win with its current defense.
Follow me on Twitter: MattBowen41