April 22, 2011 -
Matt Bowen
Why drafting defensive backs is critical
We talk about building through the draft, upgrading rosters and adding to your overall depth consistently throughout the offseason. Address the D-Line rotation, draft an extra tackle or a swing player (can play both guard and center) on the O-Line, find a No.4 at the WR position, etc. Add top-tier talent and depth over the weekend.
However, from my perspective, the one position that needs top priority is the secondary. Let's break down four reasons why every GM should target both corners and safeties on their draft board.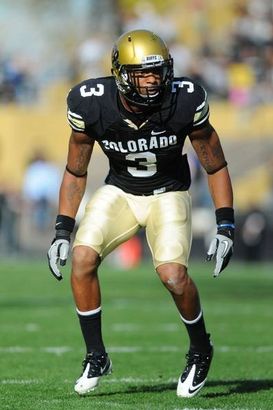 ICONSmith has first round talent, but he will still play a major role on special teams.
1. NFL offenses: Spread the field. Look at the playbooks in Green Bay, New Orleans, New England, Chicago, etc. Offensive coordinators that want to force defenses to bring a third or even fourth corner onto the field. Empty sets, bunch looks and multiple vertical passing concepts. The NFL offenses today are becoming more and more similar to the spread looks we see at the college level. To compete, draft high in the secondary and look for mid-to-late round talent that can get on the field as a rookies.
2. Special teams: Every defensive back—corner and safety—plays on special teams. Even the No.1 CBs (Champ Bailey during my career) played at the "jammer" position on punt return. The same can be said for this year's top talents, Patrick Peterson, Prince Amukamara and Jimmy Smith. Forget wide receivers, because outside of Josh Cribbs and Kasimm Osgood, they aren't physical enough and won't tackle. Instead, your coverage teams will be littered with corners and safeties that can run and hit.
3. Sub packages: I am going to use Saints' defensive coordinator Gregg Williams' scheme here. I played in this scheme and have broken down an example on the chalkboard. They are exotic when the sub packages (nickel, dime) are on the field, plus every DB has to be able to blitz and cover. That goes for his first round corners to strong safeties. Get to the QB and produce in a Cover 0 (no safety help) situation or stay on the sideline. It isn't uncommon to see a defensive sub package on the field in a first or second down situation. And when it comes to third downs, that is when DBs "make their money."
4. Injuries: If I am coaching at the NFL level, I have no issue fighting hard on cut day to carry nine or ten DBs on the 53-man roster—and dressing eight on game day. You lose a CB or a safety during the game, it impacts your base defense, sub package and more importantly your four core special teams units. There is no other position on the roster that plays a bigger role on Sundays and the more bodies, the better chance you have at making it through an afternoon.
Follow me on Twitter: MattBowen41