August 04, 2011 -
Matt Bowen
Why Fairley's injury could derail his development
The issue the Lions have right now with Nick Fairley is simple: he isn't going to develop during camp.
After Detroit's first-round pick underwent foot surgery on Wednesday, the team announced that Fairley would miss significant time in training camp. And with a foot injury, the DT might not practice at all this month.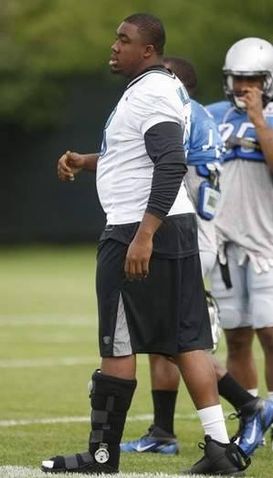 Fairley's injury is going to keep him out of competitive settings throughout camp.
That's a blow to the Lions and to the start of Fairley's career—because spending the better part of August in the training room isn't going to prepare any rookie for the regular season.
I'm sure the Lions coaching staff will tell us that Fairley will still get time in the meeting room, take mental reps at practice and work on his conditioning during rehab, but don't buy it.
That's not NFL football.
Earlier this week at the NFP, I discussed rookies in training camp. A guide to grading out these first-year players on the field. And everything I brought up centered on practice, the experience of working vs. veteran talent and learning how to play at high level through competition.
Rookies need to be on the field and they need to get beat—often—in order to improve. You don't want to see them plateau and the arrow always has to be pointing up when you look at their overall development.
Miss two days of practice and it feels like a week in normal time. So much detail goes into one day of pads in the NFL. And if you aren't out there, you start to fall behind—quickly. Miss an entire camp? A lot of practice time, plus game situations on preseason weekends that can't be made up. Those are priceless--especially after the offseason training vanished due to the lockout.
That's the real worry here for Detroit. We know they have a veteran defensive line with Kyle Vanden Bosch and Ndamukong Suh, but Fairley's rookie production was part of the plan as a first-round pick. He showed us down in the SEC that he could penetrate the line of scrimmage and get after the QB. Real talent there that can be coached up and prepped for NFL Sundays.
Does that mean the Lions can't count on him in 2011? No, because it is a long season and he will have a role on this football team. And playing in a rotation along the D-Line will help. But to expect him to consistently show up on tape early in the regular season is stretching it.
This rehab will take time, and once he does get back on the field his technique will suffer as will his football conditioning. We have to expect that. Let's see how this plays out, but as I see it, this hurts the Lions and the rookie DT.
Follow me on Twitter: MattBowen41