February 10, 2012 -
Matt Bowen
Why Giants' Victor Cruz should ask for a new deal
Victor Cruz is underpaid. That's something we should all agree on when looking at the contract that paid him $450,000 during New York's championship season.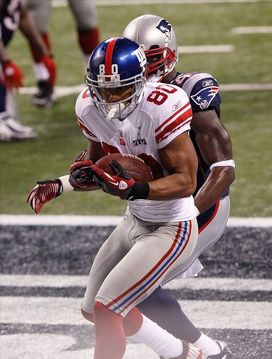 ICONThe Giants are getting big production from Victor Cruz at a discounted rate.
A small price for 1,500-plus yards receiving.
The Giants' WR talked about his contract this week with Mike Florio over at Pro Football Talk, saying: "I think I was paid, you know, relative to where I came in this year and, you know, I came in as a free agent so that's the salary I was on, so I don't feel like I was underpaid. I mean, I feel like after my performance this year, you know, I feel like I deserve to be paid more money at this point. But that's something I'll let my agents and those people take care of and I'll just go out there and play the game."
Can you blame him? Cruz is scheduled to make $490,000 in 2012, and from a player's perspective, that money doesn't match the production we are seeing on the field. And before we you start talking about "loyalty" to the Giants (which doesn't really exist in the NFL), players should get rewarded for your play.
We have to remember that Cruz was an undrafted free agent. No first-round bonus money, multiple opportunities or free passes because of where he was drafted. Instead, we are looking at a guy that has earned playing time and put up big numbers for a Super Bowl champ.
Look at it this way: the Patriots game planned specifically for Cruz this past Sunday in Indy using combination-man coverages inside of the numbers to take the Giants' WR out of the route tree. The type of WR that causes issues for opposing defenses on Sundays because of his ability to win at the line of scrimmage.
I get the idea that Cruz is "under contract," but we all know that dollar amount isn't enough when you turn on the tape. Production sells in the NFL and paying up for Cruz should be an offseason priority for the Giants. Reward him and take care of your own.
Follow me on Twitter: @MattBowen41