August 05, 2010 -
Matt Bowen
Why Hester should thrive in Martz's system
Bears WR Devin Hester. A true No. 1 in the NFL, or are we looking at a player who is still trying to learn the position?
Wednesday, at Bears camp in Bourbonnais, IL, new offensive coordinator Mike Martz was big on his praise for both Hester and fellow WR Johnny Knox. But we see this often in the NFL — because hope is king during the first week of camp. Players are fresh and repetition is bigger than game plans and Sunday preparation.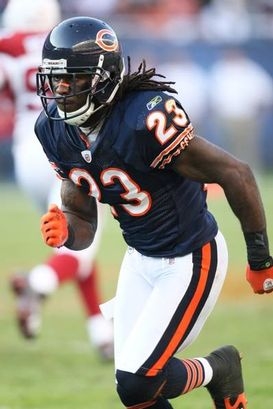 ICONWith Martz, Hester can develop into a true No.1 WR in Chicago.
However, as I wrote yesterday in my camp notes from Chicago, Hester looks like a different receiver than we saw in 2009. I talked about his route running, his ability to come in and out of his cuts with no false steps and no hesitation. Little things, right? Of course, but when you play in this offensive system under Martz, those "little things" are bigger than we all expect.
I saw this offense first hand when I played for Martz in St. Louis, and when I brought up Hester to one of my former Rams' teammates yesterday, there was no hesitation in telling me that the WR should produce — with big numbers.
We have to understand that this system under Martz is very, very complex. Multiple formations and changing personnel. What does that mean for Hester? Movement. Lots of movement. We will see him aligned outside the numbers as a true No. 1, in the slot (where he should produce against a nickel corner), in motion and in bunch and stack sets at the line of scrimmage.
Yes, Hester is always going to be looked at as a deep threat, but in this offense he will get opportunities to run underneath routes, the intermediate game and be a player in the 3-step route tree (slant, hitch, option route), where he has to break one tackle and get down the field.
Hester isn't a Larry Fitzgerald or a Randy Moss, but in this offense he doesn't have to be. Too often we expect WRs to run 9 routes (go route) and 8 routes (post route). Run past everyone and score TDs. Looks good on video games, but in reality, Hester can be better in this system because of the dynamic approach. Run the entire route tree, win the matchups he is supposed to and use the technique that he is learning under Martz to become a complete player.
I understand that I am fresh off of seeing Hester up close in training camp, and that can be deceiving in the grand scheme of the regular season. But, I saw this offense work in my own career and know the type of numbers it can put up. It will take time for Martz to implement his entire system in camp and for QB Jay Cutler to understand the correct reads.
But, when we focus on Hester, this offense provides him that opportunity to take the next step in his own development as a player.
Follow me on Twitter: @MattBowen41
Ready for fantasy football? Click here to purchase the Total Access Pass/ Draft Guide from the NFP.