August 15, 2011 -
Matt Bowen
Why I keep talking about Bucs QB Josh Johnson
On Friday night, I spent some time watching the Bucs-Chiefs game for obvious reasons: to see former Hawkeyes Adrian Clayborn and Ricky Stanzi in their first taste of live game action. As Iowa alum, I want to see how the rookies are transitioning into the NFL.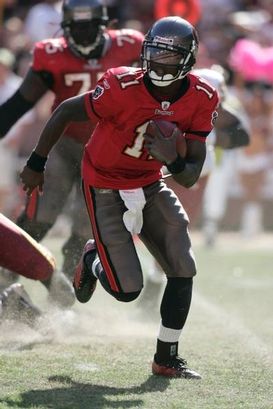 ICONJohnson gives the Bucs quality depth at the QB position behind Freeman.
However, whenever I watch the preseason after the first unit has shut it down, there is always a player that stands out from my perspective. On Friday, that was Bucs QB Josh Johnson.
I understand how valuable Josh Freeman is to the Tampa offense (and I also expect him to develop even more in 2011), but don't forget about what the Bucs have on the QB depth chart—because Johnson has talent.
And if I go back and analyze all of the preseason football I saw over the weekend, Johnson is the one of the players that I keep talking about.
What I saw was a QB that threw the ball with accuracy on inside breaking routes in the intermediate passing game, was real smooth in the open field when he broke contain in the pocket and overall looked like a polished player at the QB position.
We tend to forget that Johnson developed under current 49ers coach Jim Harbaugh at the University of San Diego and has started regular season games in the NFL. That's big for the security of the QB position in Tampa this season.
For Johnson, he will play the No.2 role in Tampa this season. That's expected. However, he is becoming more valuable with the preseason tape he is putting together. And that eventually leads to a starting job and a payday in this league.
Follow me on Twitter: MattBowen41