June 11, 2012 -
Matt Bowen
Why I'm buying Pete Carroll's 'competition' talk
I think I am a pretty good judge when it comes to NFL coaching (perks of being labeled a "journeyman" in my career). I played for Mike Martz, Lovie Smith, Mike Sherman, Gregg Williams, Steve Spurrier, Joe Gibbs, etc. in my seven seasons.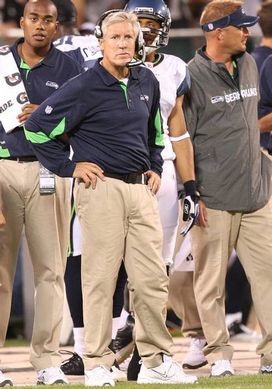 ICONFrom a player's perspective, I'm buying Carroll's "competition" talk in Seattle.
Multiple styles—and personalities. Plenty to take in from the wide variety of coaches I spent time with.
But I have never been around a head coach that preached "competition" quite like the Seahawks' Pete Carroll. And I'm starting to think that more and more players will want to work for this man while he is up in Seattle.
Why? He allows players to earn their jobs (and paychecks).
Case in point: Matt Flynn. The former Packers' QB came over to the Seahawks this offseason and signed a deal that will pay him $10-million in guaranteed cash.
That's considered "starter money" (from a player's perspective) around the NFL.
Sure, competition is always discussed, but everyone in the locker room will look for the new free agent (with the bonus check) to start on opening day. No different than high draft picks.
The team invests in a player? Expect to see him on the field. That's the normal drill in the NFL.
However, here is what Carroll recently said about the QB position in Seattle (via The Tacoma News Tribune): "Draft picks and money and stuff like that is not going to play in the decision at all. We're going to go with what it looks like through the competition and how they play, and the results of that, and how we feel about that."
I dig that. I really do, because that's not always the case in this league depending on the coaching staff (and front office) you play for. And true competition forces daily accountability on the practice field, in the meeting rooms and throughout the preseason schedule. More importantly, it provides real opportunities for anyone in a uniform when they are given reps.
Produce or give up your job to someone else.
I'm old and washed up when it comes to the game of football at the pro level. But if I could go back, the way Carroll coaches would be very attractive to me as a player. Because it sounds like there are no guarantees (at any position) on the Seahawks roster.
And that's how it should be when you are competing for jobs and money.
Follow me on Twitter: @MattBowen41