January 31, 2012 -
Matt Bowen
Why I'm holding my opinion on Bears' Phil Emery
I listened in on the press conference yesterday for new Bears' GM Phil Emery. Standard answers from Emery and multiple deflections when asked about how the club would target players and fill the holes on the roster.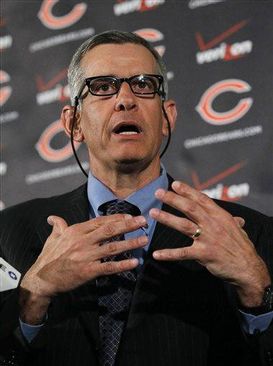 I want to see Emery work during free agency and the draft before forming an opinion on the new Bears' GM.
That's expected even if the fan base wants an inside look at the Bears' offseason plans under new leadership in the front office. Fans want to see change from the now departed Jerry Angelo.
And after that press conference, I was asked my opinion on the Bears new hire. Good move? Bad move? Could the team have done better?
My answer is simple: let's see how it plays out first.
I heard very positive comments from people I trust in the NFL while down in Mobile last week for the Senior Bowl. A new GM that has a detailed scouting background and isn't afraid to put in the work.
However, I'm still holding that opinion until I can get a glimpse on how Emery operates through free agency and the draft. Those are the answers we are looking for when it comes to evaluating a new GM in Chicago.
Maybe we see Emery go after a WR such as Vincent Jackson or Dwayne Bowe this March when free agency opens. A major need for a team that has a franchise arm at QB in Jay Cutler.
There is also the possibility of upgrading the left tackle position and the D-Line opposite Julius Peppers. Names such as Ohio State's Mike Adams at LT or Melvin Ingram and Courtney Upshaw at the DE position if they are still hanging around at pick No.19 in the first round this April.
But regardless if the talent comes from veterans in March or rookies in the draft, I'm curious to see how Emery upgrades the roster in Chicago. His job is to shape this team to compete on a consistent basis with the Packers and Lions in the 2012 season and beyond. And it starts soon when the new league year kicks off.
Until then, I'm going to wait to hand out an opinion. Let's allow Emery to get to work first.
Follow me on Twitter: @MattBowen41