June 07, 2012 -
Matt Bowen
Why is the 'Post-Corner' a nightmare in Cover 2?
Click here for the entire Inside the Playbook series.
When I focus on the base Cover 2 beaters in the NFL (Flat-7, 4-Verts, 999), there is one route designed to test the technique (and discipline) of the deep half safety: the "Post-Corner." A multiple breaking route (one that I gave up for a TD in my career) that can put the safety in a tough spot if he over commits to the 7 (corner) route.
Let's take a look at the route up on the chalkboard and breakdown why this concept can turn into a nightmare for a Cover 2 safety if he doesn't play with the proper technqiue.
Personnel: Posse (3 WR-1 TE-1 RB)
Formation: "Doubles Orange" (2x2 spread look)
Route: Post-Corner
Defensive scheme: Cover 2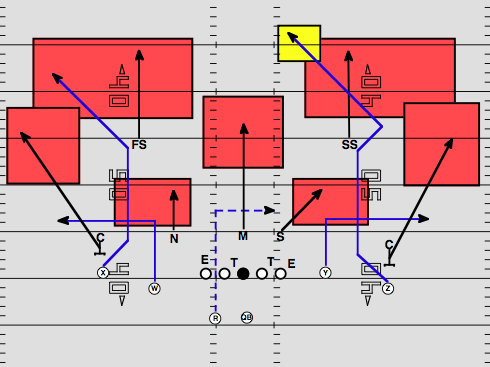 Why is it tough to defend?
Inside stem: CBs in Cover 2 are taught to re-route (and sink) at the line of scrimmage. However, the No.1 WR (Z) will take a hard, inside stem (creating a free release) and then press vertically up the field. From a safety's perspective, this looks like a WR releasing to the inside to create room for the 7 cut.
Depth: Don't sit short. Take the proper alignment (15-yards at the snap, work to 18-yards on the release). If you don't have enough depth (or play to jump the 7), you will lose your cushion (distance between DB and WR) at the top of the stem. That's trouble.
No help from the Mike: The Mike Backer (M) in Cover 2 will run the inside vertical seam, but don't expect a LB to match to the WR when he breaks on the post. This is the safety's play to make. And in the deep half, this is no different than playing off-man coverage once the WR cuts to the middle of the field.
Technique at the break: If you jump the 7 (or don't play with enough depth), you will have to lean on the "closed angle" technique (head whip). That's not easy to find the WR and get back "in-phase" (on the hip) with the ball in the air. You should be in a position to use an "open angle" technique (open hips and run with the WR). Allow the CB to cushion the 7 route with his drop and stay square in your pedal.
What does it look like on film?
Bears-Lions from the 2011 season on Monday night. Calvin Johnson runs past the top of Lovie Smith's defense on the "Post-Corner" vs. Cover 2.
Follow me on Twitter: @MattBowen41