August 31, 2011 -
Matt Bowen
Why is Torrey Smith struggling in Baltimore?
I'm not surprised that Torrey Smith is struggling with the Ravens. Transitioning to the NFL at the WR position is a process—sometimes a long one—that involves the Xs and Os of the game, plus the much-needed experience of working vs. pro defensive backs.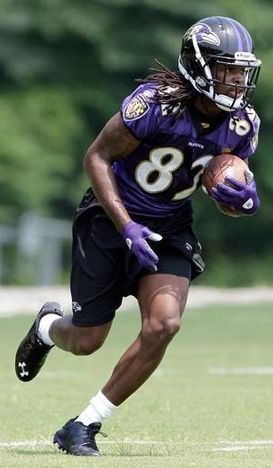 Raves rookie Torrey Smith isn't going to transition to the NFL game overnight.
You don't get that at the college level. Base coverages and CBs that will play off-man (with a soft cushions) vs. WRs that can run. It was too easy for Smith to use his elite speed and vertical concepts vs. ACC competition on Saturdays.
Not anymore. You have to beat press-coverage vs. DBs that are excellent with their hands. Adjust route schemes vs. Cover 2, Cover 3, etc. See pressure, run the hot route and win at the line of scrimmage.
That won't happen today or even tomorrow for Smith. He needs more time to learn this game at the NFL level. Vertical speed is one thing, but the ability to run the entire route tree, understand the concepts of the playbook and produce are part of the job on Sundays.
However, it is far too early for Ravens fans to give up on this guy. One preseason doesn't tell the entire story. Never has for a rookie. What you want to see is the improvement—every day.
The same reason both John Harbaugh and Cam Cameron stood up for their draft pick recently, with the head coach saying: "Just lay off the kid and let him develop and become the player that he's going to be."
I can agree with that. You talk to any NFL scout and they will tell you that the "arrow always has to be pointing up," when it comes to rookies. Every practice you want to see them do something to improve their overall game in a positive way.
Remember, there is a reason the Ravens traded for Lee Evans. They need that vertical threat today in their game plan. Eventually it will be the rookie from Maryland—but he isn't there just yet.
Follow me on Twitter: MattBowen41