October 19, 2010 -
Matt Bowen
Why Kolb is the right choice in Philly
We are going to hear that the Eagles are set at quarterback because of both Kevin Kolb and Michael Vick. Two players who can both step into Andy Reid's west coast system and produce.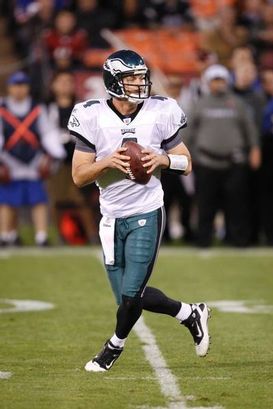 ICONTime for Reid to name Kolb the official starter for this Sunday.
The problem? You still need to name a starter. If I am Reid, I officially announce Kolb as the No.1 today. Don't waste time. Get into the game plan for Tennessee and go to work with the guy who just threw for 300- plus yards plus and 3 TDs in his second straight win.
It isn't a shot at Vick, just the reality of the NFL. Miss time (just as Kolb did to start the season) and you might as well put a for sale sign up next to your name on the depth chart. Your job becomes available when you are on the sidelines in street clothes at the QB position unless your last name in Manning, Brady or Brees.
Everyone was a fan of Vick when he was healthy and leading this Eagles' offense. The patience in the pocket, the reads through his entire route progression, the ability to escape pressure, etc. New things for what looked like a more mature and polished QB. But, when he took that hit on the goal line in the first quarter of the loss to the Redskins, he handed over that playbook—and that huddle—back to the opening day starter.
Kolb wasn't efficient when he came off of the bench in that game. But the time he received with Vick on the shelf has translated into a win on the road at San Fran and a game this past Sunday when he went 23-29 in the win over a Atlanta team that came into the Linc with a 4-1 record. That sells. Production sells. And this Eagles' ball club is playing good football. 4-2, tied for first in the NFC East with the Giants. You can't disrupt that and you can't start playing musical chairs with your quarterbacks. An easy way to bring unwanted disruption to the locker room.
For Vick, he slides back into that No. 2 role. I don't doubt that Reid will find a creative way to get him onto the field, whether it is in the red zone or in a crucial situation of the game, but he is still the backup—waiting for that next opportunity. Doesn't have to like it, but he has to understand it as a player in this league.
Time to hand the ball over the Kolb for good.
Follow me on Twitter: MattBowen41
Want to work in the NFL? Still time to sign up for the NFP's Chalk Talk seminar this Friday in Chicago.