August 12, 2011 -
Matt Bowen
Why Lee Evans is an upgrade for the Ravens
Last night, when reports surfaced that the Bills were looking to deal Lee Evans, I broke down why the WR can still have an impact this season. The main reason: vertical speed to test the top of the defense.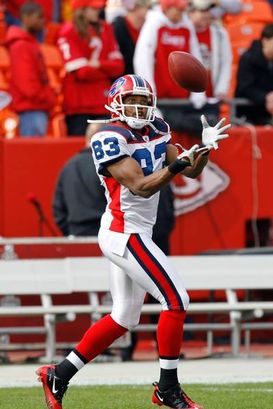 ICONEvans brings vertical speed and experience to the Ravens.
And that's why I like the play from the Ravens to send a 4th round pick (according to ESPN) over to Buffalo to get Evans in a uniform this season.
Think about the Baltimore offense in terms of the passing game. As I've said before, Anquan Boldin might be one of the best pure football players in this game, but I still see him having an impact inside of the numbers: 3-step game, Hi-Lo concepts, etc. Make the catch, get up field and produce.
After the trade, the Ravens now have an experienced WR that can align outside of the numbers and run the top of the NFL route tree. Big for QB Joe Flacco.
Sure, Baltimore drafted Torrey Smith (a rookie with elite vertical speed). But I can tell you from my own experiences in the NFL, rookie receivers will take some time to transition to the pro game. There are no guarantees there for Baltimore this season.
Plus, look around the league. Every offense in the NFL will show multiple looks. Gone are the days of the base Pro Sets. Teams need numbers at the WR position. And you get that sense of "accountability" with Evans. The vet brings a pro approach to the locker room and expected production for this offense.
Smart move here from the Ravens—and one that is going to give this offense a more complete look in 2011.
Follow me on Twitter: MattBowen41