December 30, 2010 -
Matt Bowen
Why Lovie needs to play his starters at Green Bay
Was anyone else let down to a degree when the Eagles blew a nice opportunity on Tuesday night in the loss to Joe Webb and the Vikings? I was for one simple reason: Bears-Packers at Lambeau this Sunday.
I wanted that game—along with the late afternoon start under the lights—to be that perfect setting. Week 17 with two teams, two rivals, both playing for something big. That's NFL football to me. A game where players finish off ball carriers through the whistle and play with a nasty streak on every snap. I don't mind seeing pro players go after each other. In fact, I encourage it in an NFC North divisional game. Similar to what we saw in Atlanta on Monday night in the Saints-Falcons matchup.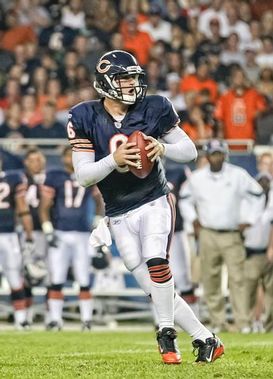 ICONHow long will Jay Cutler play at Lambeau Field this Sunday?
The issue now? The Bears have already clinched that No.2 seed in the NFC and only a Falcons' loss (to Carolina) along with a Saints' loss or tie (to Tampa) will change that. Both of those games are early starts and the Bears players—along with Lovie Smith—will know the results before that ball is even kicked off.
Lovie will talk this week about his starters playing the entire game. Will that happen? Maybe, but that all depends on the flow of the game, the hitting and what type of pass protection the Bears can put up vs. Clay Matthews and the Packers. Because Green Bay needs this game. They have to get it done if they want a ticket to the post-season tournament. It is the most crucial game of the season from their perspective.
However, the Bears need to play their starters for as long as they can. Why? Routine. Plain and simple. NFL players are used to routine—and it almost becomes robotic. Every one has their own pregame schedule, from where they sit on the plane, to their travel suits and what they do once that alarm clock goes off on Sunday morning. The same can be said for the pregame meal (omelet, spaghetti, fruit and strong coffee for me back in my playing days).
You can't break that routine and treat this like some fourth preseason game in August where you are going to play a series, shut it down and grab a visor. Chicago isn't going to play again for two weeks—which is a lifetime in the NFL. I fully expect them to approach this game like it does matter. Game plans, call sheets, special teams, etc. Play Cover 2 vs. Aaron Rodgers on defense, use some zone blitzes and run that same balanced attack on offense with Jay Cutler that earned them the division title.On top of that, they have a chance to send Green Bay home for the playoffs—if the Giants can figure out how to play winning football again vs. the Redskins
I don't know if we see Brian Urlacher late in the fourth quarter or Devin Hester returning kicks in the second half of the game. But, there is no question that these Bears' players need to keep that routine and play to win on Sunday. And as a player in this rivalry—one that I experienced in my own career—how can you not get excited to play football at Lambeau Field?
Yes, some of that "shine" has worn off of this game, which disappoints me. But it is still Bears-Packers. And that still counts.
Follow me on Twitter: MattBowen41