June 21, 2012 -
Matt Bowen
Why NFL training camps need more 'joint' practices
I was introduced to the physicality of the NFL during my first training camp as a rookie with the Rams when Steve McNair and the Titans showed up in Macomb, Illinois for joint practices.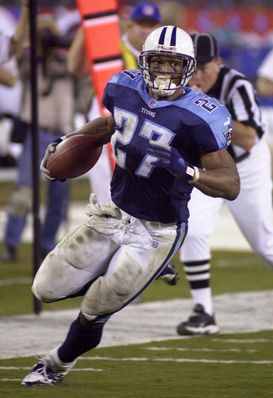 As a rookie with the Rams, I competed vs. Eddie George and the Titans during joint training camp practices.
Thrown onto the field for "Inside run drill" (9-on-7) vs. a backfield of Lorenzo Neal and Eddie George, I realized that the NFL was no joke. Line up, read the TE, track the FB and set your pads in the hole. Good times as a 198-pound rookie safety.
Three days with the Titans in town. One-on-ones, 7-on-7, blitz pickup, goal line drills, etc. And we wrapped it up with a scrimmage in the stadium on campus at Western Illinois University.
According to Jim Wyatt of the Tennessean, the Titans and Falcons will get together this August to practice (or scrimmage) against each other during camp. And I think this is a smart move by both coaching staffs.
I love the idea of these joint practice sessions from a player's perspective. More competition, more opportunity to get on film vs. NFL talent as a young player trying to make the roster. And for the established vets, it's not a bad thing when you get to line up and compete against a new scheme in a "live" environment.
Think of it this way: these joint practices are scripted. You can get 15 plays in the red zone, work the 4-minute drill, 3rd downs and also dedicate time to special teams in a competitive setting. The coaching staffs have control over the game situations they script during these practice or scrimmage sessions—unlike the preseason schedule.
There is no guarantee your first or second unit will get to work on their 2-minute package or use their goal line personnel under the lights during the preseason. It all depends on the flow of the game, number of reps, etc.
Much different when you meet up with an opposing club during camp. Multiple reps for the entire depth chart and a much higher level of competition than players will see on a daily basis practicing against their own teammates.
Joint practices in the NFL are a great tool in the evaluation process and I would hope more teams would follow the lead of the Titans and Falcons this summer. It only makes your team better.
Follow me on Twitter: @MattBowen41