March 22, 2011 -
Matt Bowen
Why Philly has multiple reasons to trade Kolb
Even during an NFL lockout, reports have surfaced that the Eagles have received offers for backup QB Kevin Kolb. Somehting we should expect with a quarterback class that has some question marks coming out in the draft.
The question now is simple: should Philly trade their former starting quarterback? Here are four reasons why I think Andy Reid and the Eagles should look to move Kolb—once there is a new CBA in place.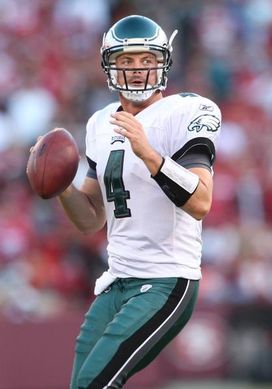 ICONKevin Kolb's value will be at an all-time high this offseason.
1. Supply and demand: Look at these teams: Carolina, Arizona, San Francisco, Tennessee, Washington, Seattle and Minnesota. Each club needs an upgrade at the quarterback position. With the draft most likely taking place before free agency, we will see where Cam Newton, Blaine Gabbert and the rest of the rookie prospects end up. But to think that all of those teams listed will get an opening day starter via the draft is unrealistic. With Kolb, you get a veteran with real NFL starting experience coming from top level coaching in Philadelphia. An attractive option to fill the No.1 role.
2. Overall value: I have spoken to NFL coaches and scouts about Kolb. What did I learn? There is a major split when it comes to grading his overall skill set. Some coaches doubt his ability to throw the ball down the field in the vertical game, while others see him as an ideal fit in a west coast system when the majority of the throws are between the hash marks and the numbers. However, despite the discussion when it comes to an overall grade, all of them agreed that his value will be at an all time high. As one scout told me, "If you think Kolb is the guy, give up whatever it takes."
3. Vick as a franchise QB: The Eagles have already placed the franchise tag on Vick and I would expect the club to work towards a long-term deal once a new CBA is in place. And Reid has made it clear that Vick is his No.1 guy. Now, you go out and get something in return for a player that will not be a part of the weekly game plan. The idea of having "security" with a quaretrback on the bench that has game experience doesn't outweigh what Philly could get in return for Kolb on the trade market.
4. Mike Kafka as the No. 2: If Kolb is dealt, we could see the former fourth-round pick on the field this season becasue of the style of play from Vick that can lead to injuries. Is that an issue? Not from my perspective, because drafted players eventually have to play a role on Sundays. You spend a fourth-round pick on a QB, then he should be able to step in during his second season, run the game plan and move the football. That's why he gets a game check every week. You can't hide QBs for too long.
Follow me on Twitter: MattBowen41