May 19, 2011 -
Matt Bowen
Why player organized workouts are over-hyped
I am a big believer in what the players across the league are doing by organizing workouts, getting together on the grass and conditioning. You need that in the offseason and it is one of the major reasons I stand behind the importance of OTAs and mini-camp in terms of team building.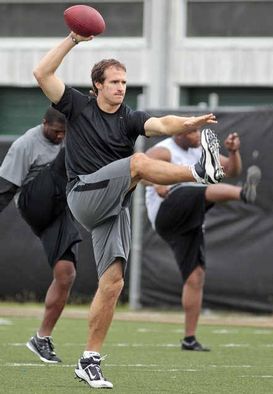 Brees has been leading workouts for the Saints down in New Orleans.
But let's all be honest here, because as much as I applaud the veteran leaders—such as Drew Brees—for getting these workouts off the ground, they aren't the answer.
And they are over-hyped in the midst of the NFL lockout.
Think about structure in an NFL practice setting. Sessions are scripted, detailed and designed by the coaching staff. Got to have that. Red zone, two-minute, blitz period and so on. And, let's not forget about the crucial time spent with your position coach during individual period. The time to teach technique.
You will see that in a random OTA on a Tuesday morning in the middle of May.
Plus, they are also competitive. Going to happen when you are working in front of the coaching staff, making those first impressions before training camp opens and jobs become available (along with opening day roster spots).
7-on-7 can get heated, run fits become more than just hand slapping and players get into a football mentality—in just helmets. You need to drive downhill on a WR during team work on the deep dig route when you are playing Cover 2, just as an O-Lineman needs to set his hands on a trap block vs. a defensive end.
As a DB, we would work all the way through 11-on-11 drills and finish with a two-minute session. Grab a shower and head right up to the meeting room to make corrections off of the film.
Unfortunately, that's not what the players are getting right now. Another issue surrounding the league during the lockout.
I give guys like Brees, Matt Cassel, etc. credit for finding a way to bring their teammates together. Fly into town, open up the in-season rented condo and get to work. That takes leadership and requires accountability from the team.
And it is the best the players can do when they are locked out of the team facility (which isn't going to end anytime soon).
But it's still not an NFL practice. Another reality of the NFL lockout that continues to hurt the game.
Follow me on Twitter: MattBowen41