April 24, 2011 -
Matt Bowen
Why players 'cheat' the concussion test
The NFL has a serious issue with concussions. The idea of an 18-game schedule doesn't help and changing the rules on kickoffs is just window dressing—designed to cover up the deeper concerns.
However, if you haven't read the piece from Alex Marvez over at FoxSports.com on players and their tactics to cheat the system when it comes to the baseline concussion tests, you only know part of the story.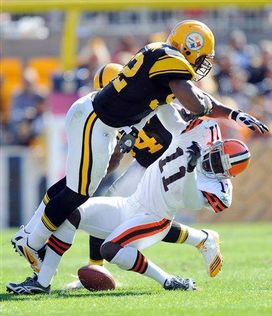 Violent hits will continue in the NFL, but players will still try to get back on the field.
Because players are part of the problem.
Every offseason I would sit in front of a computer in the training room, staring at pictures of animals, number combinations, etc. The goal is to take the test in a clear state of mind and analyze the data (or memorization scores) after a head injury on the field. A way to judge if the player is fit to return to live action.
However, I intentionally missed questions—and there are many other players who followed the same plan.
Sandbag the test, because when you are asked to re-take the test after a concussion on Sunday, you can still pass.
I have talked about concussions and the severity of the post-career issues that players—including myself—feel on a daily basis at the NFP and in a detailed column over at the Chicago Tribune.
But that didn't stop me from doing whatever it took to stay on that field as a pro.
During my rookie season in St. Louis and my first year as a Packer in Green Bay I took the concussion test seriously. However, by my third season I started to see the nature of this business play out in front of me and what happened when you couldn't dress and produce on Sunday.
Your roster spot became expendable and like most athletes who view themselves as "immortal," I wasn't going to let a simple concussion slow me down. So I screwed with my own test results to protect my spot in the lineup and on special teams.
Looking back, it was one of the worst decisions I ever made, especially after experiencing a concussion in 2003 (one that knocked me out) and playing the next week in Carolina. I took the test during the practice week and was right back on the field. But I would probably do it again if it kept me on the roster.
Like I said, the concussion problem in this league is real, and when it comes to the player's perspective, I don't see an answer any time soon.
Follow me on Twitter: MattBowen41