July 21, 2011 -
Matt Bowen
Why position coaches will be key in camp
While we wait for the NFL lockout to finally come to an end, keep in mind that training camp will look and feel differently this season. Beyond the fact that two-a-day sessions could possibly be eliminated, camp itself will be more about teaching, technique and on the field playbook install.
Head coaches will get the credit during the month of August for scripting a schedule that allows for their players to compete while installing their base packages at the same time. We should expect to hear all about it during various training camp reports around the league.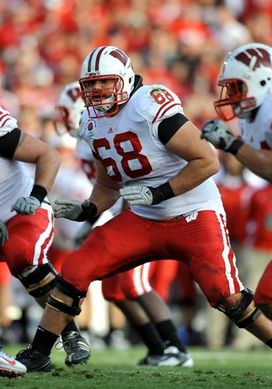 ICONBears O-Line coach Mike Tice will have to put in the work to get first-round pick Gabe Carimi ready for the regular season.
However, it will be the position coaches that do all of the legwork, put in the extra hours and spend every free minute they have working with players.
Without an offseason, these coaches will have to break down technique, bring back longer individual periods in practice and spend more time during correction periods re-teaching the fundamentals of their schemes. And that is with experienced veteran players.
With rookies? Time for these coaches to start working overtime—daily.
In a normal league year, rookies are targeted for extra work. They stay later into the night in film study while the vets run back to their rooms and hit up the team snack in the cafeteria. They come out to practice early (sometimes before the vets even arrive to the locker room) and spend an extra thirty minutes walking through the base routes and coverages.
They never get a free minute, because there is always something to learn.
And in this training camp, time will be key. At lunch, during the rookies' "rest' time in the mid-afternoon and very late at night in a dark film room watching the same play over and over again. These coaches will have to find time—and utilize that time—to teach as much football as they can.
An example? Take Bears' O-Line coach Mike Tice. In my opinion, this unit will be one of the hardest hit by the lockout. They improved as the 2010 season progressed, but there is still work to be done. And their first round pick, OT Gabe Carimi from Wisconsin, has the talent to line up as a starter on day one (a position of need for Chicago).
But will he have enough time to learn the system, the techniques and the fundamentals that are required to play at a high level in Mike Martz's offense? Questions we can ask of any rookie this season.
No doubt this training camp will be unique for both veterans and rookies. But when we get to September and the start of the 2011 season, it might be time to hand out a serious raise to the position coaches throughout the NFL.
They will have earned it.
Follow me on Twitter: MattBowen41