September 22, 2010 -
Matt Bowen
Why Reid made the right call with Vick
It is going to be easy to jump on Andy Reid and his decision to start Michael Vick at quarterback, but let's look at this move from a player's perspective today—because it is the right move for this football team.
This has nothing to do with Vick's past history—or whatever your opinions are on him. Instead, this is all about what Vick can do as a quarterback for the Eagles. We saw it when he came into the Green Bay game after Kevin Kolb left with a concussion. You could see the energy on the field and the players around him responded. Go back to Sunday against the Lions. The numbers (21-34-284-2 TDs) and the 35-32 win are what stand out.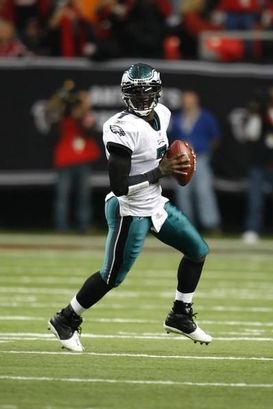 ICONVick is the No.1 for Andy Reid and the Philadelphia Eagles.
As Andy Reid, how do you tell your team that production isn't good enough to stay on the field? What message does that send? This league is based on opportunity. And, when a player isn't accountable on Sunday because of injury, well, then he gives up that opportunity—for someone else to take. Everyone who has played in the NFL can agree with that. You can't dress on Sunday? Then you are risking your job. It might sound too simple, but, in reality, it is that simple.
Yes, the move goes against everything that we are told when we talk about the quarterback position in the NFL. The starter—going back to the beginning of the offseason—who is being paid over $12-million in guaranteed cash is now on the bench. Think about that. The same QB who was the major reason behind the Donovan McNabb trade. He was supposed to be the guy for the Eagles, and he still could be at some point this season, but not today. Things change once the season starts. People may argue that Kolb is the better option. That's fair and I would listen to it. But, can we really say that based off of two starts in '09 and a half of football in Week 1? Not quite.
Instead, play the guy who is making things happen this Sunday against the Jags. Leave it at that.
How will it translate throughout the rest of the regular season? We don't know and it is pointless to try and speculate on what he will do. All that matters for the Eagles is that he is playing good football right now. He looks fast in the open field, his arm strength is back and he made good decisions with the football in Detroit. He fooled me going into that game. I didn't expect to see it, but give him some credit for that—because it is the reason Reid ultimately made the switch.
But, the bigger story here is the rest of the team in Philly. I expect them to respond. That is what players do. Vick is the QB who has put drives together, put the ball in the end zone and won a game for this club. Players dig that stuff when it comes to QBs. They want—and need—a leader on the field they can go to work with.
I'll be honest; this is a hell of a move for Reid to make after two weeks in the regular season. I've never seen anything like it. But, if I am in that locker room, I understand why it was done. In a league that is so focused on production and winning, it is a tough sell for the head coach to stand in front of his team and explain why you are sitting a guy down that showing up on tape.
Play the hot hand. The guy who is getting the job done—today.
Follow me on Twitter: MattBowen41
Click here to win cash today playing fantasy football with the NFP and FanDuel.