December 02, 2010 -
Matt Bowen
Why Steelers-Ravens is the best matchup in the NFL
Two top-tier matchups on the Week 13 NFL schedule this week. The Ravens host the Steelers on Sunday night and then the Jets travel to New England to play the Patriots on Monday night. Best games of the season? Looks that way—on paper—but I want to know which game intrigues you. The game that requires you to clear your own schedule, put the kids to bed early and grab a six pack of beer well in advance of kickoff.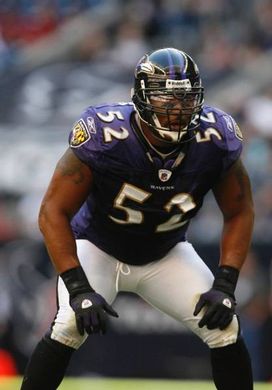 ICONWatching Ray Lewis and the Ravens host the Steelers in the top game in my opinion.
I have said before that the AFC plays a better brand of football—playoff style football—when compared to the NFC, and I still buy into that. The overall quality of football is better, and as an ex-defensive player in this league, I still favor football played at a more physical level. We get that on a weekly basis in the AFC—and it something we will see in both of these games.
On Monday night we will have more drama with Rex Ryan, Revis, Brady, Belichick, Sanchez, etc. I get that, but I also understand the overall quality of play we will see from New York and New England. That is what sells from my perspective. I want to see Brady go against that Jets' pressure defense. And, I have questions of my own. How do the Pats game plan and when we flip over to the other side of the ball, can Belichick's defense limit Shonn Greene and L.T..? There is intrigue there from the point of view of an analyst and as a fan of the NFL.
But, Steelers-Ravens is still the game I would pay good money to see. Two similar teams when we talk about defensive schemes: overload pressure, multiple fronts, zone blitzes, top level safety play, etc. Special teams will be big and field position will come at a premium. That—for me—is the best style of football to watch. Underappreciated names on offense such as Mike Wallace and Rashard Mendenhall in Pittsburgh, plus Todd Heap and Joe Flacco in Baltimore. Good football players that don't carry the same name value as the Monday night matchup.
And, we can go deeper. This is a rivalry that is bigger—and better—than Jets-Pats. We don't see this type of general dislike on the pro level, instead reserved for Ohio State-Michigan and Auburn-Alabama on Saturdays. I want to watch football where players go for each other's throats. That isn't "dirty" football. Instead, it is physical football where you finish off running backs and block through the whistle. It is the game I circle on the schedule every season. The type of matchup that provides coaching tape to show to your own players—at any level of the game. This is how you want to run to the football, diagnose run-pass keys and come downhill hard—like Ray Lewis.
Yes, both games carry weight in the overall dynamic of the AFC and I will watch both very closely. However, when I look at both mathcups, Sunday night in the No.1 for me. My three boys are going to bed early on so I don't miss a minute of Steelers-Ravens in Baltimore. My favorite game on the NFL schedule.
What's your opinion? Let me know which game you have to watch…
Follow me on Twitter: MattBowen41