March 02, 2011 -
Matt Bowen
Why the Bills' George Wilson is an example of hard work
Bills safety George Wilson is a perfect example of what is right with the NFL in the midst of labor talks, negotiations and threats of a lockout. And he deserves every dollar that comes from the three-year extension he signed with the team on Tuesday.
This guy is a football player. One that had to work his way into a role in Buffalo. When I went to the Bills in 2006, entering my seventh and final season in the NFL, Wilson was a wide receiver—on the practice squad.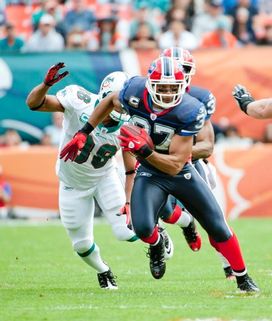 ICONWilson has the best work ethic of any player I came across in the NFL.
I noticed him in the offseason on the first day I got to town. Saw him in the weight room, catching balls out of the jugs machine (by himself) and in the film room—in March. And it never stopped. Every day in the facility working.
And it carried over into the season. Played on the scout team offense at WR, RB, etc. and then flipped over to defense. Never took a play off, covered kicks during special teams drills (again on the scout team) and kept running. Let me tell you, I played on the scout team when I came back from injury during that season. It can be a miserable experience. Run plays off of cards and don't get into an collisions.
Not with Wilson—because he treated it like a Sunday.
And since that 2006 season, he has moved over to the defensive side of the ball, started 26 games, racked up 148 tackles and has eight interceptions.
From an analysis standpoint, this is a solid move from Chan Gailey and the Bills. You need depth in the secondary and Wilson can start for you at both safety spots. Plus, he adds value as a core special teams player. Those aren't as easy to find as you would think in the NFL.
However, from the standpoint of a true football player, Wilson brings even more value. He knows the X's and O's of the game and will always work. Think about that the next time you hear a story on a player like Albert Haynesworth in Washington. Big money that doesn't want to get to show up on the football field.
That happens all of the time in the NFL. Not in Buffalo with George Wilson.
Follow me on Twitter: MattBowen41