March 29, 2011 -
Matt Bowen
Why the Bills should think defense at No.3
If you are the Bills, sitting at No.3 on draft night, can you pass up a Cam Newton or Blaine Gabbert if they are on the board? Attractive options and possible fits in Chan Gailey's system with coaching, time and standard development at the position.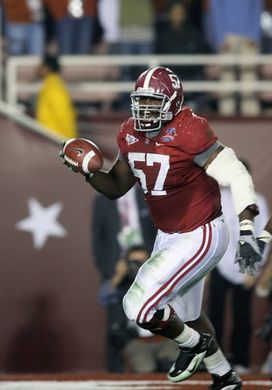 ICO Marcell Dareus is just one of the defensive upgrades the Bills could have at No.3.
Both Newton and Gabbert could project as franchise level QBs in Buffalo. That is a real discussion that should take place in their draft prep out in Orchard Park. I wrote about Newton on Monday. A unique talent that will need time to work on footwork, technique, etc. But an added value to his game when we break down how he can be used creatively as a rookie.
And, as Chris Collinsworth discussed over at FootballProsLive.com recently, a player that will be tough to pass up.
But does that address your major concerns (immediate concerns) on defense? Coordinator George Edwards has a unit that ranked dead last (32nd overall) in defending the run in 2010. That's bad football—and doesn't produce wins in the AFC East.
Buffalo will have options. The top ten is loaded with defensive talent, and with that brings opportunity for an upgrade.
Think of DT's Marcell Dareus and Nick Fairley. DE Da'Quan Bowers (if he checks out medically) or OLB Von Miller, a player that the NFP's Wes Bunting likes in the Bills' scheme. What Buffalo has in these prospects are opening day starters. Players you can plug in a 3-4, or a 4-3 front—and expect production.
I played for Edwards back in Washington when Steve Spurrier was running the show. He is creative, understands the game, can relate to players and will win games for you—but he needs talent in Buffalo.
This front seven isn't good enough to beat the Patriots, Jets and Dolphins. That is reality. Go to the chalkboard all you want, but until you can win up front and rush the passer, it is going to be a struggle to win divisional games in this league.
Draft a QB? Yes, that sounds good—and might sell tickets—but when you have a No.1 in Ryan Fitzpatrick that can run the offense and put points on the board, there is no need to sacrifice an opportunity to upgrade their defense for either Newton or Gabbert.
And if I am Gailey or GM Buddy Nix, I spend the next month studying defensive tape of college prospects to find the best option. Plug him with the first unit in training camp and watch him make plays for my squad as a rookie. Because if the Bills don't address their defensive front seven, we could be looking at a repeat of 2010.
Follow me on Twitter: MattBowen41