July 28, 2011 -
Matt Bowen
Why the Cardinals 'overpaid' for Kevin Kolb
This offseason, I was talking to a long time NFL scout on QB Kevin Kolb. Limited experience, steps of development he still needed to make, his struggles in the vertical passing game, etc.
He told me that a team would "overpay" to get him into training camp as a No.1 QB. The reason was simple: without a starting QB you have no hope. And that is the worst feeling you can have in this league.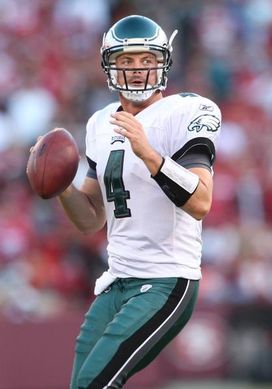 ICONArizona paid a big price to get Kolb.
That is exactly why we saw the Cardinals give up a starting CB in Dominique Rodgers-Cromartie, a 2nd round pick and $20 million in guaranteed cash to hand out a new deal to Kolb.
Doesn't take an expert to tell you that this is a high price to pay for a QB that has started seven games in the NFL. Kolb's body of work as a starter shouldn't replicate a contract of this size (or starting CB and a draft pick on top of that).
However, looking at the Cards depth chart, this is a team that didn't have a QB that could consistently make a throw in a crucial situation of the game, step up in the red zone or win a NFC West title.
I have been on teams that fit this description at the QB position. It makes you nauseous on the way to the stadium as a player. And in a league driven by QB play, that isn't good enough.
That's why you make this deal and overpay, giving away a starting CB (which are hard to find), plus the draft pick. You do whatever it takes, because going into camp desperate at the QB position isn't going to prepare your club for the regular season.
We should all admit that Andy Reid and the Eagles came out looking pretty good on this deal. They just traded a player that was going to start the season as a backup—removed from the game plan.
But the Cards made the right move also. Kolb might not be worth the overall value they dished out today, but without him, this team wasn't going anywhere in 2011. And now they at least have a shot in the NFC West to make some noise.
Follow me on Twitter: MattBowen41