February 24, 2011 -
Matt Bowen
Why the combine carries weight for Von Miller
Texas A&M linebacker Von Miller is one of the top overall prospects in this year's draft. A 3-4 rush linebacker that will make an immediate impact on Sundays. A top ten pick? No question, but don't let discount the importance of the NFL combine this week for Miller.
I watched him practice at the Senior Bowl. Very fluid and athletic. It doesn't take a pro scout to tell you that. Was impressive in one-on-one pass rush, closed to the football and showed a natural ability to drop into coverage—like you would see from the strong safety position. He stood out and there was a certain buzz about his game down in Mobile. Fair to say that his draft stock was rising.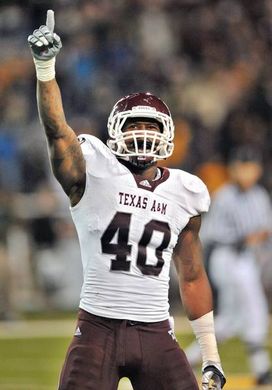 ICONEven with production in college, the NFL still wants to see Miller run at the combine.
And he has the game tape to back it up—the key for any prospect. Production on the college level that is easy to see when you turn on the film. That sells above any drill at the combine.
However, the workouts in Indy are another opportunity for Miller to climb even higher on draft boards. Instead of a top ten pick, we could be talking about the A&M linebacker as a top five player in this April's draft.
We can all have opinions of the testing process in Indianapolis and what type of weight it carries in the overall draft process. But for players like Miller at the OLB position, the stopwatch is important. The NFL wants to see him run, change direction, show quickness in his lateral ability and explode out of his cuts on the field.
The 40-yard dash, short shuttle and 3-cone drill will be watched closely. And that applies to every defensive position the farther you get away from the football. Cornerbacks, safeties, defensive ends and outside linebackers like Miller. Listen to scouts and GMs, because they will tell you the same thing. Speed sells at these positions.
And you have to prove it here in Indy on the stopwatch in front of the entire NFL.
That is exactly what the league wants to see from Miller. Post top-tier numbers, show that athletic ability in the position drills and look every bit the part of a top prospect in the NFL draft.
Like we talked about above, the game tape sells with Miller. Now comes the next step. Stand out here, in Indianapolis, just like he did at the Senior Bowl. And show the NFL that he is just too good to pass up in the draft.
Follow me on Twitter: MattBowen41