July 27, 2011 -
Matt Bowen
Why the Jets made the right move with Holmes
Some quick notes on the Jets re-signing WR Santonio Holmes to a new 5-year deal. One that will pay him a total of $50-million (with $24-million guaranteed), according to ESPN's Adam Schefter.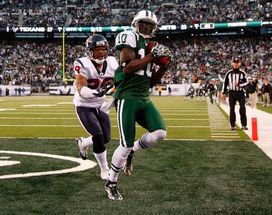 ICONThe Jets made the right move getting Santonio Holmes back in a Jets uniform.
- Talked about Holmes and the impact he brings to the Jets offense on Monday. Runs the intermediate routes and is a true No.1 option in the New York offense. Think of the crucial game situations (3rd down, red zone, inside the 10-yard line), because that is where I see his value outside of the numbers.
- A key move in terms of the development of Mark Sanchez. We will see what happens with the club and free agent WR Braylon Edwards, but when you take away a No.1 option like Holmes from a young QB that slows the maturation process. Give him the tools to succeed and produce on a regular basis. And all QBs need a WR that will create opportunities down the field.
- Holmes will make big plays. We saw it last season. In the open field after the catch, in the red zone vs. the Patriots and Texans, etc. We are talking about a WR that shows up on tape when the offense needs someone to make a play. You will pay big for that in the NFL—but the investment is worth the production.
-The money? A big number for any position. But during free agency, players are going to cash out with big checks when they have the production to back it up. Can't blame Holmes for chasing the money to stay in New York or the Jets for opening up their wallets.
Follow me on Twitter: MattBowen41