February 26, 2011 -
Matt Bowen
Why the NFL will fall in love with Cam Newton
INDIANAPOLIS—Cam Newton took to the podium today at the NFL combine, and outside of a rehearsed, written statement to address his previous comments on being an "icon and entertainer," I thought he handled the entire session with ease.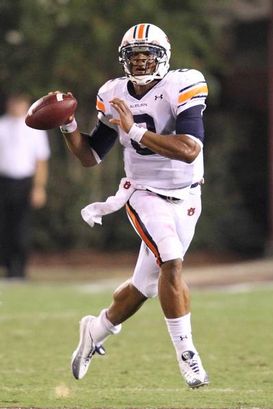 ICONNewton's unique skill set will be on display here in Indy.
Was he cocky, arrogant? Some will see it that way (especially addressing himself in the third person multiple times today). But if I am a coach or GM in the league looking for a QB, I've already found my answers to leadership concerns, etc. in the interview sessions. I have formed my own opinions on making Newton the leader of my huddle and, in reality, the possible face of the franchise.
What he said today to the media isn't going to change that, alter my overall grade or impact where I see him going in this April's draft.
Without a doubt, there is a definite buzz surrounding Newton here in Indy, more than any first round prospect. Intrigue is what I would call it. We see it just as the NFL teams grinding these prospects through the combine process. And I expect it to keep growing.
We will see his unique talent. A 6-5, 248-pound quarterback that might run a 4.6 40, on top of what he can do on game tape. The type of raw skills that push the draft stock of a prospect through the roof. Newton is puting that on display here in Indy for the entire league to see.
At that point, it is easy to forget about questions about his father, the issues at the University of Florida or the type of offensive system he played in down at Auburn. Without a doubt those will be dissected and turned upside down before the draft in late April. That is part of the draft process that can't get ignored, but the key is the talent we will see at the combine.
That sells and the NFL is going to fall in love with Newton because of it.
Follow me on Twitter: MattBowen41