March 15, 2011 -
Matt Bowen
Why the NFLPA is off base with the draft
As an ex-player, I want the NFLPA to get what they deserve when it comes to the ongoing labor battle with the NFL. Players are recyclable when it comes to this league, and because of that I understand the need—and desire—to get every dollar you can before the NFL kicks you out the back door. Nothing wrong with fighting for that.
That is the cycle of life in the NFL. The best "temporary" job in the world (something coach Joe Gibbs used to say often in team meetings).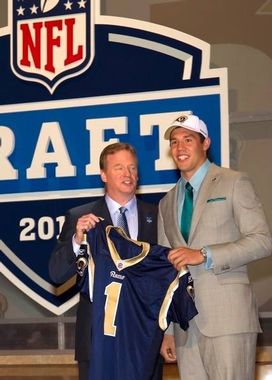 ICONSam Bradford at the 2010 NFL Draft.
However, I can't stand behind the NFLPA when it comes to the current discussion towards the NFL Draft in New York City. The idea of asking (or telling) incoming rookies to "boycott" the draft itself (or go to an alternate event) is off-base and irrational.
Sure, we all can see what is at play here. Current players in the middle of a labor discussion don't want to see the new crop of talent walk across that stage and shake the hand of commissioner Roger Goodell—because he works for the league.
But has it really gotten to this point—already?
These rooks don't belong to any union. They haven't paid their yearly dues ($10k when I played) and they aren't educated fully on what is at stake. For them, we are talking about the one day—the only day—when they get to hear their names called in front of a national TV audience. Don't take that away and don't drop to that level where "boycotts" are used as negotiating tools to make a point.
The NFLPA is (or should be) too good for that.
Patrick Peterson, Von Miller, etc. These top ten picks should be in attendance and celebrate draft day. They have earned it. Trust me, they will have plenty of time to sit in on NFLPA meetings after practice, turn over their yearly dues and start preparing for the next situation when the CBA runs out.
The fan reaction is already negative. And I think we can all agree this idea has backfired in current public opinion. No reason to take the fight to draft weekend. Let the fans have some football this offseason.
Like I said, the NFLPA should battle with the owners and get what they deserve, but do it the right way. They can get every single rookie to join their fight after draft weekend.
Follow me on Twitter: MattBowen41