December 20, 2010 -
Matt Bowen
Why the Packers' Flynn made some money Sunday night
How about the Packers' Matt Flynn last night in the 31-27 loss at New England to Tom Brady and the Patriots? Completes 24 of 37 passes for 251-yards and 3 TDs. The one interception? Comes on a slant route where WR James Jones shuts it down coming out of his break. Overall, I thought Flynn played a solid game from the perspective of a backup going on the road against what we perceive as the league's top team in the Patriots.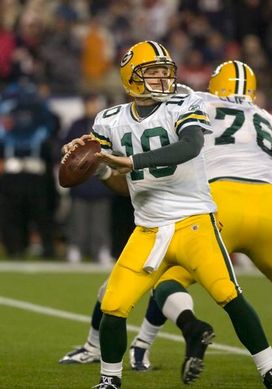 ICONFlynn can make some money in the future with the game tape from Sunday night.
Now, the final drive and the time management questions are going to come into play. In my opinion, that is on both Flynn and head coach Mike McCarthy. In reality, a mess when you look at it. However, that is one situation in a night that was filled with positives for the Packers' QB.
He was efficient in the three-step game throwing the slants and the 5-yard inside breaking china route (short square-in). He used the tight end effectively when the Patriots rushed three and dropped eight into zone coverage. Even with the poor angle from the Patriots' Brandon Meriweather on the 66-yard TD pass to Jones; Flynn threw a near perfect deep ball vs. the New England 2-Man look. With the CB in a trail-man position, he put the ball on a line to the up-field shoulder of Jones. That is a big time throw on a national stage. On top of that, Flynn made the proper decisions in the red zone and took advantage of the coverage schemes he saw from Bill Belichick and the Patriots. Threw the slant to Greg Jennings and hit FB John Kuhn on the angle route.
What does it mean for the Packers? For one, they have a backup that can run their offense when they hand him the ball. That is big, because McCarthy doesn't have to shorten the game plan or protect his backup QB. On top of that, Flynn now has a game tape that can make him some money in the future. Because whenever he hits free agency—or talks with the Packers about a future deal—he can always turn on that tape.
And that always sells in the NFL.
Follow me on Twitter: MattBowen41