July 13, 2011 -
Matt Bowen
Why the Redskins should spend big in free agency
Talking about the Redskins and owner Dan Snyder going on a spending spree during free agency is normal. That is almost expected in the NFL during the offseason—despite their actions to take a step back last year during the signing period.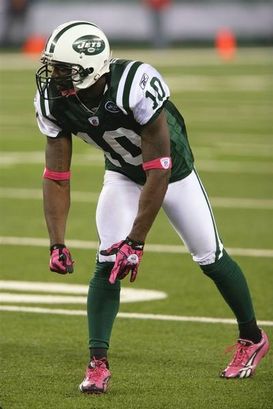 ICONWR Santonio Holmes is one of the top names on the Redskins target list according to a report from NFL.com.
However, for all of the times that Snyder has opened up his wallet to bring in free agents for a quick fix to his team, this year I view it as a necessity. Ask anyone in the league and they will tell you the Redskins roster is full of holes.
And that is why we shouldn't be surprised to hear the report from Jason La Canfora of NFL.com that Washington has a list of players they want to target. Jets WR Santonio Holmes, Kris and Cullen Jenkins, Ravens guard Marshal Yanda and the Giants Barry Cofield according to La Canfora.
Sure, the club did make some nice additions from my perspective during the draft with OLB Ryan Kerrigan, WR Leonard Hankerson, etc. Washington drafted for need and what can be looked at as hopeful impact from their rookie class.
But there is still work to be done—because this team needs major talent upgrades.
In the past (including the 2003 offseason when I was part of a 'Skins free agent class) Snyder spent like no one else in the NFL. Target a big name, throw some money his way and get him in a Washington uniform. And it never looked as good on the field as it did on paper. Something I saw first hand during my three seasons as a Redskin.
These names that La Canfora listed? They make sense from where I am standing. This club has "scattered talent" on the roster, but not enough from my opinion to compete with the Giants, Eagles and Cowboys on a regular basis in the NFC East.
The biggest name, Holmes, is the most interesting. Its not going to be easy to take away Mark Sanchez's No.1 option from the Jets, but money talks in this league. And Snyder has plenty of it.
Let's see what shakes down once the lockout is finally lifted. And keep an eye on the 'Skins once again. Because they will spend to bring in the players they want.
Follow me on Twitter: MattBowen41