February 18, 2011 -
Matt Bowen
Why the top prospects should work out in Indy
Every February we watch as a number of top draft prospects shut it down in Indy. Go through the interviews, medical, written tests, etc. But watch from the sideline on the actual workout day inside Lucas Oil Stadium.
We dont get to see them in the 40-yard dash, 3-cone drill, short shuttle or position specific drills. Instead, it saved for the comfortable setting of the pro day back on campus. However, the Combine does serve a purpose and there are benefits to working out in Indy.
Let's look at four reasons why the big names should want to workout at the combine. Because if you are a top prospect, you should have nothing to hide when you are in the spotlight.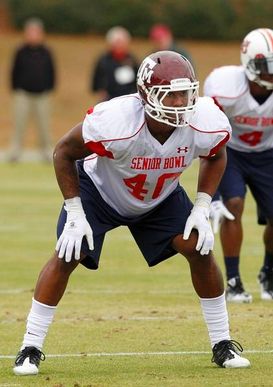 ICONAfter a solid Senior Bowl, A&M's Von Miller can imporve his stock even more in Indy.
1. The pressure of the combine: Can the player handle the pressure? At the combine, you don't work out on the field until your last day in town. You are tired—near exhausted—after the interviews, medical and various testing (bench, written exams, etc.) from your time already spent in central Indiana. Show the NFL that you can perform and produce results under the most stressful of situations—because that is exactly what is expected of you on Sundays in the league. Don't hide. Instead, show up ready to run, throw, jump, etc. If I am a coach or a GM that is what I want to see. And if a prospect refuses to run in front of me, I start to wonder if he can handle the stress of the league.
2. The entire NFL is watching: There are scouts, coaches, GMs and owners from every single NFL team in Indianapolis and they are all there to watch you. It is a great opportunity to impress all 32 teams—and not just the ones that show up at your pro day. Draft boards—and draft stock—can change daily in this business. As a player, you want your name in the notebooks of the top brass of the NFL. Only way you do that is by showing up at the combine ready to workout. Let them see you up close. For late round picks (like myself in 2000) the combine is the first (and maybe only) chance to show off your talents, but it applies to the top prospects as well. Will a Bill Belichick or a Mike Tomlin come to your pro day? Maybe, but they are guaranteed to be in Indy. They are there to watch you—give them what they want.
3. Compete with other prospects: It gets very competitive down on that field. You work out with prospects at your own position and what you are fighting for is simple: money. You are not only competing for a job in the NFL, but also to move ahead of the guy standing next to you in line ready to do the vertical jump test. The NFL is watching to see how you finish drills. Take a player like Texas A&M OLB Von Miller. Plenty of hype after the Senior Bowl and a top ten prospect. From my perspective, I want to see him compete in Indy just to reassure me that he is worth the investment. And it applies to the QBs as well. Cam Newton, Blaine Gabbert, Ryan Mallett and Jake Locker. Who stands out in the drills and throwing the football? Perfect opportunity for each of these players to compete against the best talent.
4. Improve your stock: The post-combine hype is strong in this business. Every year we jump on the train of a prospect that tests well in Indy. That is a major benefit to taking part in every single drill on the field. Use it to add to the game tape that is being watched right now by pro scouts. Even for Newton—who is still riding the hype of his media workout—the combine is the perfect setting to improve his stock. If he opts out and tells the league that he will workout for scouts back at Auburn, he is missing a big opportunity to keep the talk going. The combine is the ultimate job interview is sports—take advantage of it.
Follow me on Twitter: MattBowen41
Click here to sign up for the NFP Chalk Talk seminar in Indy.