August 09, 2011 -
Matt Bowen
Why the wide receivers stood out at Bears camp
When I attend a pro camp in this league, I always want to focus on technique and ability during individual periods, competitive settings (one-on-ones), etc. That is where you see the true skill level for players, their footwork and attention to detail.
And that's why I came away impressed with the Bears wide receivers after checking out practice down in Bourbonnais on Monday. Here are my notes from Chicago's top four at the position...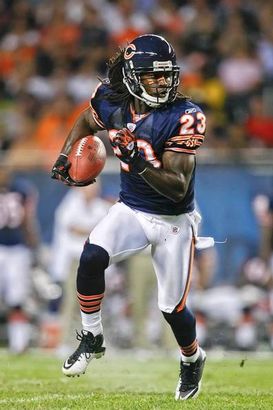 ICONHester looks much more polished as route runner at Bears camp.
Devin Hester: Talk to anyone inside the Bears organization at camp and they will tell you that Hester has had a great camp. What do I see? A player that looks more polished. We all know his lateral speed is unquestioned, but I saw a WR that really exploded out of his cuts. Hester dominated one-on-ones, put some clinic film together vs. press-coverage and showed improved footwork compared to last season. Second year in Mike Martz's system could produce some numbers for Hester.
Roy Williams: I wrote about the Bears new WR after the club signed him during free agency—and there were some questions. Is one-day of camp going to change my perspective? No, but I have to say that Williams did surprise me. For a big WR, he had control of his footwork, ran clean routes and didn't look stiff coming back to the football. He doesn't have the speed of Hester, but there is no question he can get down the field. And if he can win during the regular season vs. press-coverage, expect QB Jay Cutler to make him a prime target.
Johnny Knox: Running as the No.3 for the Bears right now, and even if that sticks, we will still see him on the field often in Martz's offense. I still view Knox as the best pure route runner on this roster and he did add some size to his frame this off-season. The WR can get down the field, run the double-move and should be a player the Bears can align inside in certain situations to give him a "two-way go" (work inside and outside release) vs. a nickel corner.
Earl Bennett: Think third downs with Bennett. Just like the 2010 season, the Bears were working what I call the "H Post" during practice. Similar to the Hi-Lo concept that we broke down here at the NFP. A two-man combination route run inside of the numbers. That is the scheme for Bennett. Get the underneath crosser with the angle route breaking back to the middle of the field. He is going to see targets again for Cutler. And in this offense he can make plays in crucial situations of the game.
Now, I am not going to comapre this unit to the core group of WRs up in Green Bay and there is still time to work before the regular season. But with familiarity in Martz's system there should be some solid production on Sundays from the WR position in Chicago.
Some quick hits from practice…
- I don't chart passes during practice, but seeing Cutler's footwork and velocity on the ball was enough for me. He looks ready to play.
-Watching DE Julius Pepppers run through drill work is something to see. Best athlete on the field.
- The Bears aren't tied to former first-round pick Vernon Gholston and I wouldn't expect him on the roster to start the season. Wasn't explosive off the ball and didn't show the ability to win with his hands at the point of attack.
- Marion Barber fits as a downhill runner in Martz's offense and should compliment No.1 Matt Forte. Where does that leave Chester Taylor? Considering that he doesn't play a role on special teams, he may be the odd man out.
- I see good things this season from FS Major Wright. Can get off the numbers in Cover 2 and should make plays as a deep middle of the field safety in Chicago's man-covergae and pressure schemes.
- Expect Sam Hurd to be the No.5 WR on the roster and play a big role for Dave Toub's special teams. Opposite CB Corey Graham on punt coverage, the Bears have two gunners that can get down the field.
- The Bears looked like a veteran football team during their offensive install. Plenty of pre-snap movement and multiple personnel groupings. A lot of moving parts after an offseason that was shut down to the lockout.
Check back to the NFP later today for Greg Gabriel's breakdown of what he saw from the Bears O-Line at practice.
Follow me on Twitter: MattBowen41