January 05, 2011 -
Matt Bowen
Why we should listen to Lechler's comments on Cable
I am a big fan of the comments from the Raiders' Shane Lechler after Tom Cable was let go in Oakland yesterday. Why? For starters, I agree with him when it comes to the now departed coach as I wrote earlier this week here at the NFP. The move to remove Cable is, well, asinine from my point of view.
A coach that was starting to build a winner in the AFC West is now looking for work. Does it add up? Of course not—but that is the Raiders under Al Davis.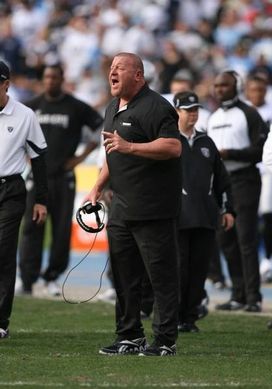 ICONThe Raiders let head coach Tom Cable go on Tuesday after an 8-8 season.
But, let's get back to the comments from Lechler, because players dislike "change" in the NFL. Whether that is a new schedule for how you practice—or what the dress code is on the plane for road trips—players want a routine, a script they can follow. Even down to the minute throughout the course of a normal workday in the NFL.
And when a coach is let go, that routine is gone as well. Players will have to adjust to the new headman (which could very easily be Hue Jackson) and start all over again. Because no matter how the Raiders try to spin it (if Jackson is the next head coach) there is a new voice, a new leader and a new boss to answer to. Some of the Oakland players will buy into it and some won't. A new challenge for this team that really didn't have to take place.
We don't often see this in the NFL—players standing up for the departed coach. It is usually a case of players that are ready to move on and start winning with that new leadership. The issue in Oakland? They already had that.
I have been through a coaching change in the NFL after the 2003 season when my head coach, Steve Spurrier, left the Redskins. Honestly, I did like playing for Coach Spurrier, but I wasn't going to come out and fight for him to stay. I knew we needed a new direction if we were going to start winning football games in the NFC East and welcomed the idea of Joe Gibbs and Greg Williams coming to D.C. A great opportunity to be coached hard.
The NFP's Dan Pompei commented on the idea of making the switch at the head coaching position this morning. Sometimes it is a necessary move, but often times it is the wrong move, a quick decision made under panic.
We should listen to Lechler. He has been through multiple coaching changes in Oakland—more than any player should experience with one franchise—and he saw a coach in Cable that the team would play for.
Follow me on Twitter: MattBowen41